The past few weeks have been a bit tricky new music wise as I obviously put a lot into the SXSW collection and while I've been loving the great bands I found on that I've also listened to The People's Key pretty much daily since early February and I admit it has stifled my routine a little bit! However I've got so much great new music to let you know about that I can delay no longer and rather than posting every couple of days there's new music coming your way every day for the forseeable. First up-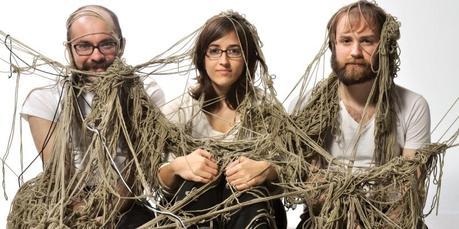 I first wrote about The Seedy Seeds way back in 2009 and unfortunately they've still not acheived the recognition that their joyous yet meaningful, abstract indie pop deserves. Their music is hugely reminiscent of Arcitecture in Helsinki, at times being poignant and at times making you wonder whether it is after all, of this planet.
The stats on last.fm are representive of which songs are the Cincinnatian's strongest in their catalogue but not of how broad a spectrum they cover in each 3 or 4 minute gem. Verb Noun and The Little Patton are where you feel their niche is while Drive me to the centre and Earned average dance America (one of the most bizarre and catchy songs you're gonna hear) are heavyweight tracks that really must be giving their live shows a feeling of great new discovery.
They have a couple of albums out that you can get here and released an EP of new material last year which hopefully suggests a new album soon. I'm baffled as to why they're not more popular but they packed out their shows at SXSW last year and are gonna do the same this year- go check them out, spread the love and let them know that they are.
MP3:
Verb Noun