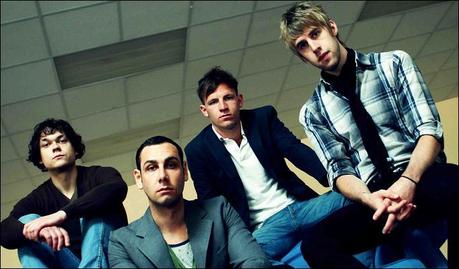 Coventry's Pint Shot Riot get their name from the three words that come up on predictive text when you type in the word pint. It's also, handily, a British social commentary. Here's hoping they succeed where perhaps Coventry's previous favourite sons, Enemy, fell short.
They obviously played SXSW last week, which for a band from Coventry is pretty swish, and by all accounts it sounds like it went great. I've always had an affinity for the area in that it's a sort of the underdog of the midland citys. I went to watch football there a lot when I was younger and then to see gigs and play poker at the casino when it became the Ricoh. It's a great venue and unfortunately tends to be the dream of bands from the area to play it, sure it should be a target but not the be all and end all.
On that subject for example, the Courteeners who PSR are HUGELY reminiscent of took on the world before coming back to sell out the M.E.N, headlining's a different matter- you headline the Ricoh you've got it made. Tracks like not thinking straight hark back to the angry Biffy Clyro days and that element with the mucianship of editors' ilk it makes for a pretty stunning combination.
There's always a danger of this kind of band to attract a yobby element and with a name like they have that's a bit of a worry but the world no longer needs a new Liam Gallagher like it did for a scary few months there and I think they've got everything finely balanced here. Live they'll be awesome regardless of yobs or hipsters, bottom line is they have some really great tracks and I can see their debut (Spell it out, released on 7th March) being the start of great things. But, although this is glossed over in their bio- this may have been said before.
MP3: Come back to me