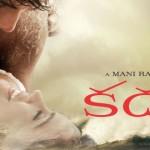 Director Mani Ratnam's name is a big brand in itself that attracts attention whenever he is ready with a new movie. This time the director is coming with a love story that introduces two newcomers. Will the director succeed this time around? Let's see the strength and weaknesses of the film Kadali for the director to achieve a success.
Strength:
Brand name of director Mani Ratnam in the urban centers is the films biggest strength.
Mani Ratnam is coming up with a love story after more than a decade. Sakhi was the last love story the director made and incidentally it was the director's last major success in Telugu film industry.
Weakness:
Nativity factor might be a major problem with the film although there are known faces in supporting roles.
Music for the Telugu version hasn't really clicked the way it has in its Tamil version.
Opportunity:
If the film clicks it could be director Mani Ratnam's first success after more than a decade in Telugu.
Dream launch for the debutants if the film is big commercial success.
Threat:
The release of a universally appealing commercial entertainer along side and a biggie a week later is sure to hamper its prospects at the box office.