Professional Networking App Launched In Chicago
A new app called Shapr made its way to the Chicago tech scene in late 2016. This innovative app is located at the crossroads of Tinder and LinkedIn. Swipe right if you like somebody, swipe left if you don't. But instead of swiping on potential romantic matches, you swipe on potential professional connections.
When you set up a profile, you can enter your location and interests, such as marketing or journalism. The app does the rest, setting up potential matches based on similar interests and geographical location. When you match with someone, you open the possibility to chat, network and possibly meet for coffee.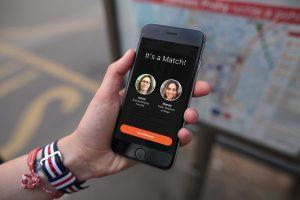 Photo Credit: Shapr
The makers of the app started in France. Before the birth of Shapr, they created an online dating app first. Then they decided to apply the Tinder swiping feature to professional networking, and this year they began marketing in Chicago as well as Los Angeles, New York, and San Francisco.
Shapr takes the stress out of networking. On LinkedIn, you might spend hours searching for the right person to message, and never receive a response. Real-life networking events bring their own list of concerns: what to wear, who to go with, and how many business cards to bring. With Shapr, you can swipe through your matches in one minute every day. More importantly, it helps you take control of your own career.
"It makes it easier to network as an everyday habit," Head of PR Mandy Menaker said.
The reasons people join the app vary, from looking for mentorship to new friends in town. One Shapr user Emily Lirag, a millennial from New York City, vouches for the app.
"It has broadened my horizons in terms of the type of people I interact with," she said. "I met a lot of people I wouldn't have met otherwise."
Emily was trying to make a longer term career switch. She found that she could trust people outside of her regular network to be honest with her. Without Shapr, she wouldn't have met people outside of those that she has worked with in the past.
"Networking is so important," she said. "Shapr helps bring it front of mind."
Another Shapr user found success in the app as well. Paul Roth moved from Washington D.C. to Los Angeles and started using the app to find clients. He's a sales force developer and administrator but works both positions as a part-time freelancer.
On the app, he met someone with his dream job — a full-time sales force engineer. In January, they met for coffee and established a mentorship relationship. He sent Paul a list of places to apply. When Paul raved about the app on Twitter, Shapr reached out to him to ask about his experience using the app. He was pleasantly surprised.
"They're not just trying to make a buck," he said. "It's a labor of love for them, and that shows through."
Will you have the next Shapr success story? Let us know what you think about the app in the comments below.