What's your pleasure? TCG has got some options in mind. Part of their Fall sneaker line-up offers up three styles that are clean, easy and well-executed. The Logan in black is the high-top of the bunch, the Stanton is the white mid-top and the Kennedy is the low-top in black and white. I saw the Kennedy on a recent trip to Toronto and was instantly impressed with the premium leather, streamlined finishing and no-brainer appeal. A nice shoe to take into Fall and pair with pretty much everything. Available now at KithNYC and their newly reopened Brooklyn outpost at 233 Flatbush Avenue.
Category: High Top Sneakers, KithNYC, Leather High Top Sneakers, Low-Tops, Men's Shoes, Men's Sneakers, Mens, Mens Fall/Winter 2015, Mens Footwear, Mens Style, Mid-top sneakers, TCG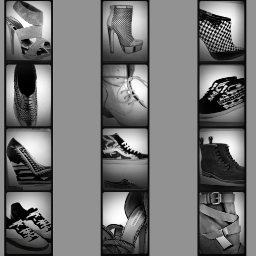 About SHOEOGRAPHY.COM:
Shoeography.com is a daily footwear blog highlighting what's new and what's hot in mens shoes, and women's fashion shoes!