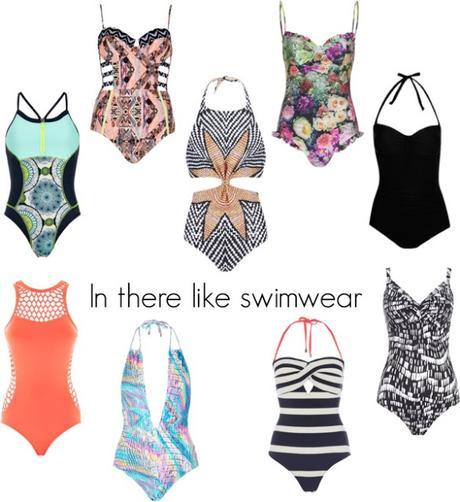 I am off to the uber stylish resort of St Tropez in July and all I am thinking about is swimwear. I love a cute bikini but to be honest I am all about the swimsuit. It seems what was once slightly uncool has made a huge come back and this season it's gone huge. I want a few swimming costumes to take with me, for lounging by the pool, sipping cocktails on the beach and maybe even dancing the night away to top DJs. These are the beautiful swimsuits I have been eyeing up to take with me.


From top left clock wise
Sweaty Betty Carve Swimsuit // Spotted this gorgeous swimsuit a while ago on a press release and the fact I know I could still easily train in it, makes it all the more appealing. The panels down the side are actually the perfect compliment to us girls who are a little broad... just in case you didn't already know that!
River Island  Orange Aztec // They always seem to totally get their swimwear right season after season and this screams style. Beautiful crazy prints and flattering yet classic in swimwear cut.
Mara Hoffman Knot Front Cut Out / A cutout swimsuit isn't normally my bag but the fact this is a high neck halter drew me in. It has what I can tell is a starfish detail in the middle for a bit of character.
Wild fox Fairy Wall Ruffle // It wouldn't be a a top picks of mine without something floral thrown in there! Some fab colours in there with again another balcony style swimming costume. Lots of prints and colours really helps cover up any tums - ideal for my post cocktail bloating!
Asda Body Sculpt Bandeau // Black swimsuit? Obviously! I believe you should always keep a LBS (little black swimsuit) in your grasp. It's flattering and this is in a simple halter neck style.
Speedo Water Gem Swimsuit // This one is surprisingly one from Speedos collection. I did spot they had just done a campaign with Caroline Flack with a new swim range, so perhaps they're keeping hold of their amazing endurance quality with a bit of a fun design? Hello sea swim training!
Ted Baker  Tirana Navy Stripe // To stripe or not to stripe that is the question. I am actually far to curvy to pull this off with horizontal stripes, but it doesn't mean I love it any less. The detail across the bra and flash of color in the tie really got me in swim lust.
Topshop Holographic Croc Plunge // Trust toyshop to deliver something truly quirky. This one is a holographic and shiny! They even have a black suit with neon graphics all over it. I feel these may be more suited for Ibiza vibes? However really love the low cut design of this particular swimsuit.
Sea Folly High Neck Mesh // Last but not least and possibly my favorite is this gorgeous coral SeaFolly suit. I adore Sea Folly with numerous purchased over the years from Figleaves.  Only slight downfall would be tan lines although for a bit of afternoon cocktails by the pool this is perfect.
Oh my. See why I love them all? Have you spotted any hot swimming costumes I need to check out?