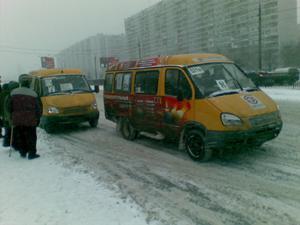 Photo: www.anaga.ru/travel/moscowtrans.htm
I hesitate, but no longer wait for the bus (never mind that it only sometimes stops for me anyway). I also hesitate to enter Washington, DC's Metro with any heavy baggage, knowing that when I emerge, I have more than a 50/50 chance that I'll need to walk up the series broken escalator steps. Nearly every day I fondly recall my days in Ukraine – where, though life in many ways may still be very difficult, public transportation works.
James Greene, President of Effective Engagement Strategies and Former NATO Representative in Kyiv, Ukraine, recently spoke at the Kennan Institute in the Woodrow Wilson Center on, "Ukraine at Twenty: How Strong is the Young State? How Resilient Society?" Having just returned to Washington the night before, he opened his presentation with a few amusing remarks about the state of public transportation here as compared to Ukraine; Metro escalators that work!
I chuckled and thought that he was just trying to be funny in referencing the non-functionality of the DC Metro escalators, but by the end of his presentation, I realized there was a full anecdote here, an anecdote that I can agree with on both a personal level as a Returned Peace Corps Volunteer from Ukraine and on a professional level as part of CIPE Eurasia's staff. The point is this: The route is there and the vehicle goes – quickly, efficiently and reliably.
The premise of the event was to look at Ukraine from a holistic perspective after twenty years of independence. Greene laid out 4 elements key to Ukraine's ongoing transition: resources, organization, institutional capacity, and external allies. These elements are all connected and necessary for the modern nation-state and are of special importance in Ukraine – a country at the border between the different political systems of Europe and Eurasia.
Currently, Ukraine seems to follow both systems in both directions, and is wrought with what Greene referred to as "a negative diseconomy on talent" that affects the business community on all levels. Yet, Ukraine has both the resources and the organizational capacity to move more decisively toward reforms. Its people are overtly pro-democratic, but their capacity is neither effectively organized nor is it used. Ukraine's greatest asset is the people – their diversity, knowledge, and creativity. What is missing is making sure that the people feel that they have a stake in reforms. Only when the people recognize their voice and their role can they help to shape their institutions.
What's the problem, then, in creating this link between the popular support for democratic and market reforms and actual systemic outcomes? According to Greene, a significant part of it is an attitude of the established business class. Many large businesses are frustrated with government corruption but are tightly bound by a shared interest in preserving the status quo, bearing little to no responsibility for the effect that institutionalized corruption has on the state.
Institutionalized corruption has had a particularly dire effect on smaller businesses, able to operate only by navigating complex bureaucratic road blocks (although just like the drivers of Ukrainian marshrutkas they are accustomed to moving, rain or shine, through any condition). The challenge is to remove those road blocks and to start the process now without waiting for the next great political leader.
The focus should be instead on the SMEs and civil society – the grassroots reformers. The international community should engage them and provide with the right tools to advance concrete reform solutions. Civil society has, in many ways, come together and we should continue to support the people in their enterprises: from locally-owned transportation to agriculture. These are the individuals who are coming together and are ready to move.
When I lament that I can't find decent public transportation here in Washington (most mornings), I am back in Ukraine on a locally-owned and operated marshrutka that's going way over the speed limit. It's so crowded that the bus is actually swaying and swerving from side to side. I hold onto the person next to me or the railings above my head, if I can. It's definitely a ride on a marshrutka (which I fondly referred to a marshrutka-surfing), but I always got to where I needed to go and always on time. People called out, got on, other people made room, people called out again, people made room again, and people got off at any, designated or undesignated, spot along the route. Though it is perhaps a bit disorganized and a little off-balance, local businesses make it work, and, frankly, all of this sounds a lot like democracy to me.