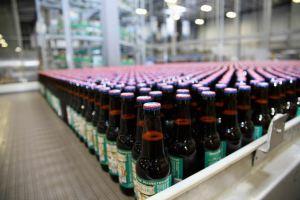 Southeastern United States regional powerhouse brewer SweetWater Brewing Company announced their numbers for 2013 and plans for 2014 in a press release this morning. Just a year after completing a $19 million expansion, the brewery has plans to grow its regional distribution, release several new beers and begin offering existing brews in cans.
SweetWater ended 2013 with a 32-percent increase over 2012, largely due to growth in current markets amounting to approximately 75-percent with the rest coming from several new markets. The brewery's top two sellers were 420 Extra Pale Ale and IPA with 22 and 46-percent growth respectively.
Market expansion plans for 2014 include Virginia in late January followed by Mississippi, Ohio, and Texas later in the year. With the addition of these states the brewery will expand their market reach to 12 states
After the addition of a new high-speed can filler from Krones, SweetWater plans to debut two of their top-selling beers in both 12-oz and 16-oz cans. The two brews to get the full metal jacket treatment are 420 Extra Pale Ale and IPA. Atlanta beer lovers will see the new cans in late March along with coastal communities. The rest of SweetWater's markets will follow.
Finally, the brewery has plans to introduce several new beers throughout 2014 including an already released collaboration ale brewed with juniper berries to benefit The Giving Kitchen called Second Helping IPA. This limited-release brew was launched on January 14 only to the Greater Atlanta area. But, for those not in the immediate Atlanta area, SweetWater promises a special edition brew for its 17th anniversary in February. In addition, with the newly expanded brewing system operational, brewers have plans for several high-gravity beers from the Dank Tank series. The first of the new Dank Tank beers is due mid-April and is called Hop Heads.