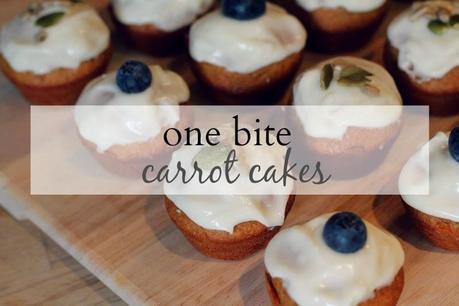 For me, carrot cake is The One. My youth was dominated by chocolate cake, but the older I get, the more I prefer fruity and spiced baked treats. Over the long weekend I celebrated my little nephew's second birthday, and as well as making his birthday cake I also threw these together for a more bitesized sweet treat. Now, I have to 'fess up. I had every intention of making the carrot cake mix from scratch, but I found myself in Sainsburys... and my shopping list at home on the kitchen table. Sigh. So I grabbed a box of Betty Crocker's Carrot Cake Mix and hoped for the best. Luckily, these turned out to be super tasty, and oh-so-simple!
First up, I bought a mini muffin tin. I went for a cheapy tin from Robert Dyas (a steal at £2.99), but you can find similar here and here. As well as lightly greasing the tin with a little oil I also cut out small circles of greaseproof paper to put at the bottom of each hole, just to ensure they came out cleanly. Luckily, all went to plan and they came out with no teasing at all! As I said, I used a shop-bought cake mix, but here's my favorite carrot cake recipe:
250ml sunflower oil
225g light muscovado sugar
3 large eggs
225g self-raising flour
1/2 teaspoon mixed spice
1/2 teaspoon ground nutmeg
1 teaspoon cinnamon
250g carrots, peeled and coarsely grated
Method: Using an electric whisk, whisk the oil and sugar together before adding the eggs one at a time. Sift in the flour and spices and gently fold in. Tip in the grated carrots and gently combine. Simples!
This recipe will make a huge amount of mixture; enough for two regular cake tins, or about 50 mini carrot cakes! I used half to make the mini cakes, and threw the rest in a regular round cake tin to bake and take to work. For the frosting - two tablespoons full fat cream cheese, with enough icing sugar to taste and set. Without fail I always make too much, but it can be frozen and used again. Just make sure you leave it to defrost naturally for a couple of hours, not in the microwave.
To cook - spoon about a teaspoon or so of mixture in to each hole, don't overfill! Bake on 180c for about 10 minutes - a knife should come out clean. If they need a little longer, just keep an eye on them and check every couple of minutes. 
Transfer onto a cooling rack, and once
fully
cooled you can ice them. Top with seeds or blueberries... or anything you fancy! I convinced myself they look almost healthy with these toppings... right?
Not only do they taste great, but they look impressive! Perfect for drinks parties, birthdays and bake sales. I was pretty impressed with the Betty Crocker mix for the record - lightly spiced and super moist, perfect! I'd definitely use it again for a quick and tasty bake. They are a bit of a faff to ice and decorate, so anything which saves a bit of time is most welcome!