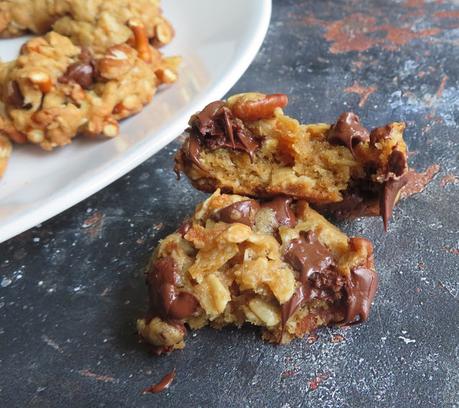 Let the 2020 Cookie Fest begin with Sweet & Salty Chocolate Chip Cookies! This is the time of year lots of people will be baking cookies for the upcoming holidays and as gifts for friends and neighbours.  These fabulously tasty cookies will be a most welcome addition to your holiday baking, or even as a delicious every day cookie to be enjoyed by the family. For the children after school, or even to be enjoyed all on your own with a nice hot cuppa!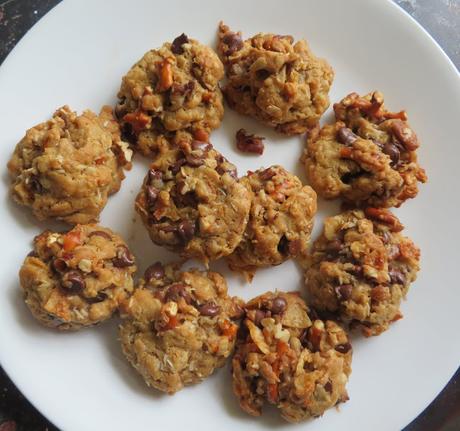 It is an incredibly moreish cookie with just the right combination of salty and sweet. Crisp edged and stuffed with crunchy potato chips, broken pretzels, chewy coconut, wholesome oats and ooey gooey chocolate chips. 
It is also a small batch recipe, making only 10 beautiful cookies.  This is perfect for the smaller family or for those of you who don't want a whole lot of temptation hanging around the house! (Me on both counts!)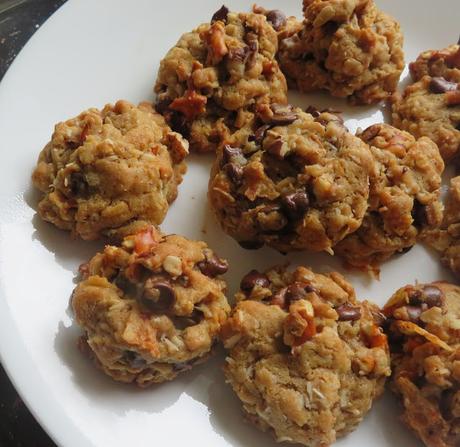 When my children were growing up, I always tried to have some fresh cookies or a freshly baked snacking cake waiting for them when they got home from school.  Yes, they were rather spoiled.
My mom hardly ever baked.  She was a working mother from when I was 11 years old.  If we had baking in the house, other than the holidays, we had to bake it ourselves.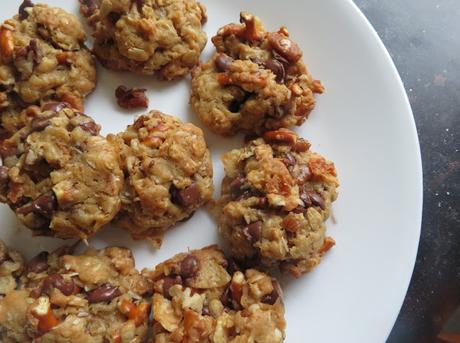 There were tons of home-baked treats at Christmas. The rest of the year, for the most part, our treats came from a box.  Yes, we ate and enjoyed boxed cookies.
Even they were counted and regulated. My mother had been overweight when she was growing up and so she was very careful about what we, as children, put into our mouths. Over-indulgences were not encouraged at all.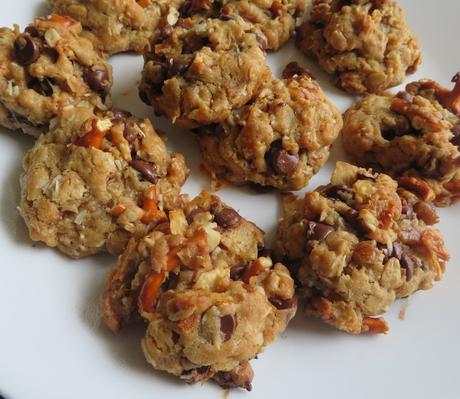 I will put my hand up and admit to having next-to-no willpower when it comes to baked goodies.  Or potato chips. That is why more and more I am small-batching things.
When I have less of these things in the house.  I am not tempted as much. There is far less for me to indulge in. I also only buy small serving bags of potato chips, etc.  Again. Portion controlled and an occasional treat.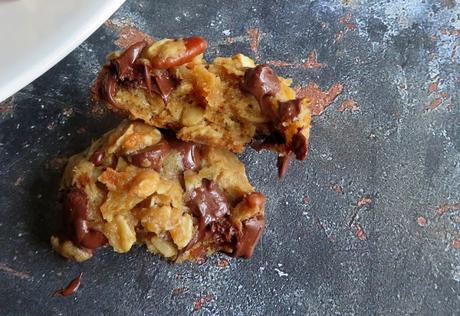 You only have to look at me to recognize that I am not suceeding.  LOL  Yes, I am a real butterball of a woman. I think at the age of 65 I have given up the idea that I will ever be thin again.  
All I want to be now is happy and reasonably healthy.  Baking in smaller batches helps me to do just that!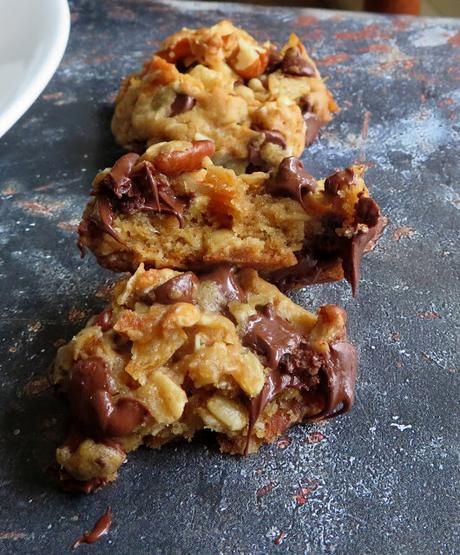 I could not resist breaking one of these open not too long after I took them from the oven.  Just look at that lush chocolate chip ooze! Lovely Jubbly! 
They are the perfect contrast of salty and sweet.  I love that there are only small bits of this and that in them.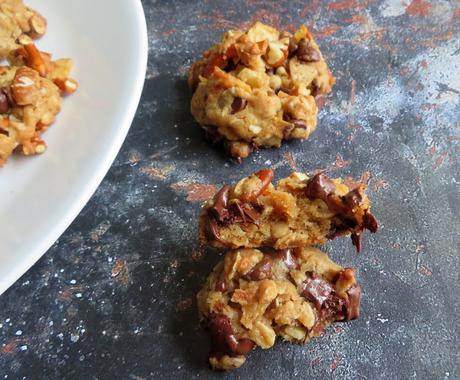 Small bits of salty pretzels and salty potato chips.  I do love the sweet and salty combination.  It is one of my favorite things.
I don't think these cookied could get any better actually. I would have liked to add some sticky raisins to them, but wasn't sure how that would go down with the rest of the household.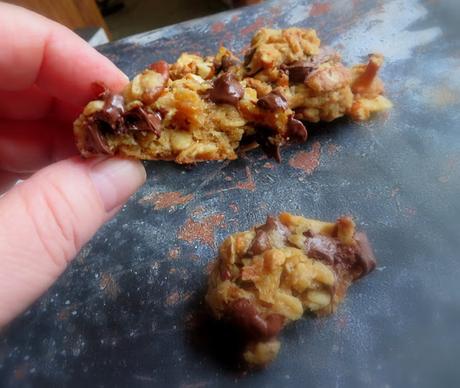 I do think however, that a handful of raisins would go very nicely. Or dried cranberries. Any dried fruit really.
The original recipe was adapted from a book by Mary Younkin entitled The Weeknight Dessert Cookbook. They were meant to be baked in two five inch glass pie dishes, for about 11 to 13 minutes a piece.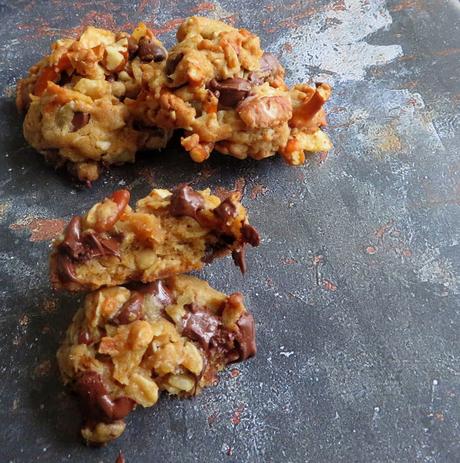 If you have the dishes, by all means try them that way. You can also bake them in four (1/2 cup/4 ounce) ramekins if you wish. They might not take as long to bake. She suggests 7 to 9 minutes.
She also says they can be baked in one 8-inch skillet. 12 to 16 minutes timing on that one.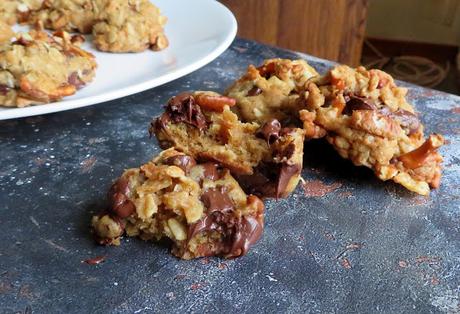 Skillet, pie dish ramekins or dropped, these are one very delicious cookie. Every mouthful brings you a lush surprise and combination of flavours and textures.
I do so like surprises don't you? The potato chips and pretzels stay surprisingly crunchy as well.  I loved that.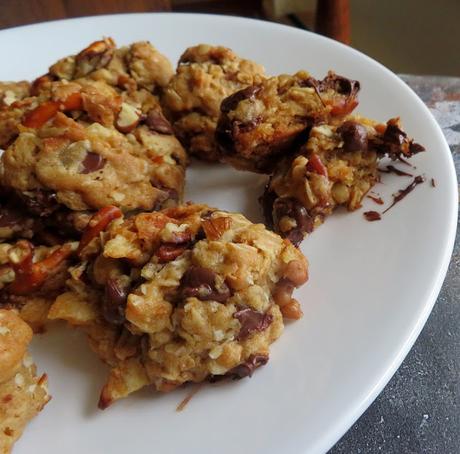 I always like to toast my nuts before baking with them. It helps to enhance their nuttiness.
Just pop them onto a baking sheet and toast for about 10 minutes in a hot oven. Make sure you let them cool before you use them!   You are sure to love them toasted!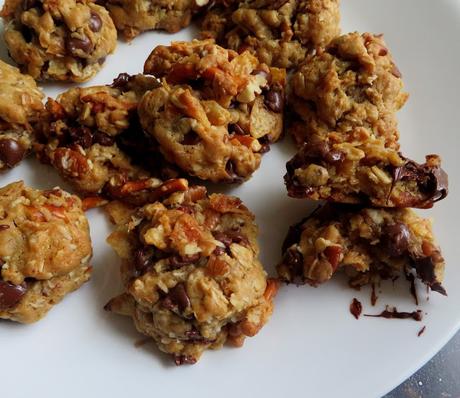 I have been playing with different areas of the house to take photographs. South facing windows are usually best. In Chester I used to take my photos on the dining room table which had excellent light.
Here I may have to resort to buying a light box.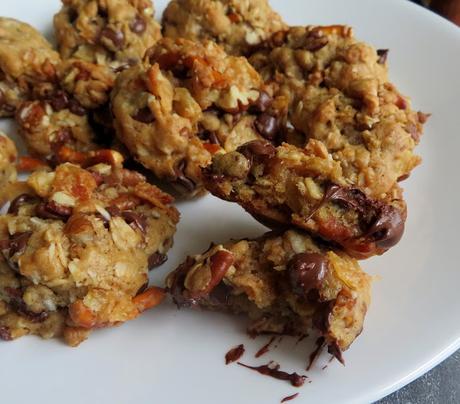 These were taken on top of a stool in front of the living room window. Not ideal, but it was rather a dull day and a bit later in the day than I usually like to take my pictures.
I will get the hang of it eventually.  I promise.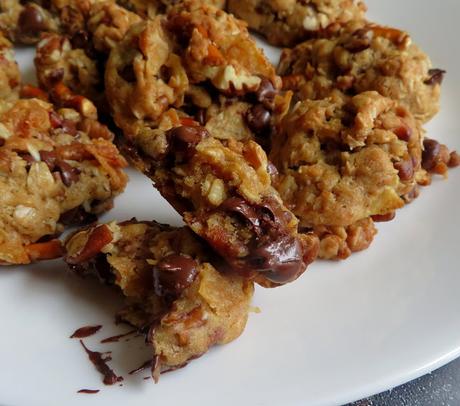 I am very cognisant of the fact that we eat first with our eyes and then our stomaches.  I need to get this right. 
It really is an art form.  I am very much an amateur.  I only ever want the food to be the star in my posts, and it is hard to showcase things to their best in poor lighting.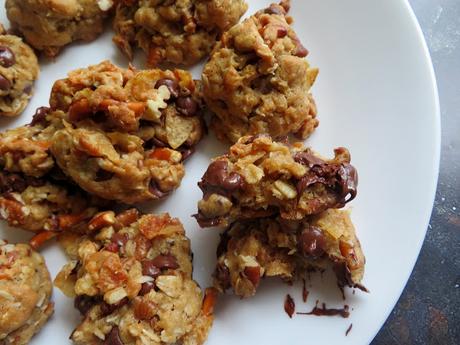 I also like to present things as close to natural as possible. I hate highly edited, color enhanced food photographs. I want reality. I hope you do too.
In any case you need to bake these cookies!  They are excellent!!

Sweet & Salty Chocolate Chip Cookies
Print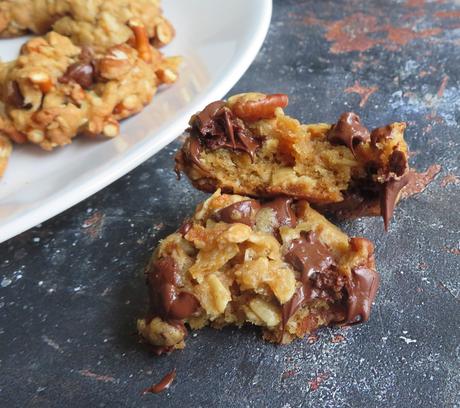 Yield:
Makes 10
Author:
Marie Rayner
prep time: 8 Min
cook time: 12 Min
total time: 20 Min
A moreish cookie with the right combination of salty and sweet. Crisp edged and stuffed with crunchy potato chips, broken pretzels, chewy coconut, wholesome oats and ooey chocolate chips. Betcha can't eat just one!
Ingredients
1/4 cup (60g) butter
1/4 cup (50g) soft light brown sugar, packed
1 large free range egg yolk
1/2 tsp vanilla extract
1/3 cup (46g) all purpose flour
1/4 cup (20g) old fashioned oats
1/8 tsp each baking soda and salt
2 TBS broken toasted pecans
2 TBS shredded sweetened coconut
1/4 cup (45g) semi sweet chocolate chips
1/4 cup (30g) roughly broken pretzel twists
1/4 cup (25g) broken ruffled plain salted potato chips
Instructions
Preheat the oven to 165*C/325*F/ gas mark 3. Line a large baking sheet with baking parchment.  Set aside.
Cream together the butter and sugar until light and creamy.  Stir in the egg yolk and vanilla. Combine well.
Sift together the flour and baking soda.  Add to the creamed mixture along with the oats and salt.
Stir in the pecans, coconut, chocolate chips, potato chips and pretzel bits. Mix well to distribute everything evenly throughout.
Using a cookie scoop or a TBS drop onto the baking sheet leaving some space in between.
Bake for 11 to 13 minutes, until set and the edges have not yet browned.
Let cool on the baking sheet for five minutes before removing to a wire rack to finish cooling completely.
Store any leftovers in an airtight container.
Did you make this recipe?
Tag @marierayner5530 on instagram and hashtag it #EnglishKitchenCreated using
The Recipes Generator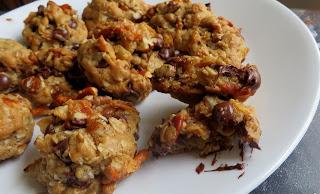 This content (written and photography) is the sole property of The English Kitchen. Any reposting or misuse is not permitted. If you are reading this elsewhere, please know that it is stolen content and you may report it to me at: mariealicejoan at aol dot com Thanks so much for visiting. Do come again!