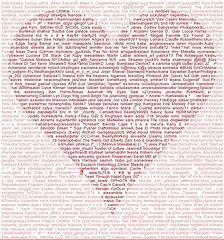 Happy Valentine's day! (Photo credit: DonnaGrayson)
Few days from now and the month of hearts and love will soon come to pass. And one of the most romantic things to do during this momentous event is to express love in words.
And speaking of words, the following lists below are sweet Russian phrases that I think you will get interested to use during that big love day. The Russian phrases are helpful especially when your intention is to be different in expressing sweet words on Valentine's Day. If your partner is also very interested with Russian language, the phrases will make him or her smile for more.
English Phrase
Russian translation
Are you free tonight?
Vy svobodny segodnya vecherom?
Вы свободны сегодня вечером?
May I invite you …
   … to the restaurant?
   … to the theater?
   … to the movies?
Mozhno vas priglasit' – Можно вас пригласить
… v restoran? -  в ресторан?
… v teatr? – в театр?
… v kino?  –  в кино?
You look wonderful!
Vy velikolepno vyglyadite!
Вы великолепно выглядите!
I fell in love with you from the first sight.
Ya poljubil tebya s pervogo vzglyada.(m)
Я полюбил тебя с первого взгляда
Ya poljubila tebya s pervogo vzglyada.(f)
Я полюбила тебя с первого взгляда
My sweetheart.
Ljubimaya moya. (addressing a woman)
Любимая моя
Ljubimyj moj. (addressing a man)
Любимый мой
I love you.
Ya tebya lyublyu .  Я тебя люблю
I'm crazy about you.
YA bez uma ot tebya
Я без ума от тебя
I can't live without you.
Ya ne mogu zhit' bez tebya.
Я не могу жить без тебя.
I want you to be my wife
Khochu, chtoby ty stala moyeĭ zhenoĭ.
Хочу, чтобы ты стала моей женой.
Let's get married.
Davaĭ pozhenimsya.
Давай поженимся.
Will you marry me?
Ty vyĭdesh' za menya?
Ты выйдешь за меня?
You are the love of my life.
Vy lyubov' vsyeĭ moyeĭ zhizni.
Вы любовь всей моей жизни
I want to grow old with you.
Ya khochu sostarit'sya s toboĭ.
Я хочу состариться с тобой.
Happy Valentine's Day
Schastlivyĭ Den' Svyatogo Valentina Счастливый День Святого Валентина
Yes, the lists above are just few of the many sweet words we can use to express love. Wouldn't it be a good idea to increase your knowledge with it by choosing to learn Russian at language schools? You know how much language schools can help learners improve a person's language skill. So if you want more info, feel free to browse more on our site.