This post may contain affiliate links. Please read my disclosure.
These hearty sweet potato tacos are loaded with refried black beans, veggies, and topped with a spicy Greek Yogurt taco sauce. They're gluten-free, easily made vegan, healthy, delicious and super family-friendly! The best part? They're ready in just 30 minutes!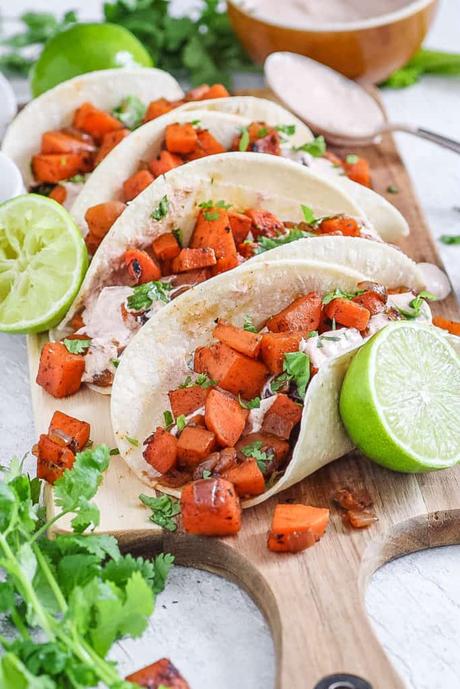 Sweet Potatoes, black beans, and Greek Yogurt.
Not the traditional ingredients you'd normally find in a taco, right?
It doesn't matter - because these are some of the most amazing sweet potato tacos you'll ever have!
Latest Recipe Video!
I LOVED these tacos. The sweet potatoes became creamy after they were cooked and mixed in with the black beans perfectly. The carrots still had a bite to them which gave the veggies a bit more texture. The yogurt sauce cooled things down and was silky and delicious. And cilantro - I know, you either love it or you hate it. I happen to love it.
The sweet and spicy flavor of these black bean sweet potato tacos was so satisfying. We'll definitely be having these again soon!
How to Make Sweet Potato Tacos with Black Beans
Recipe Ingredients and Notes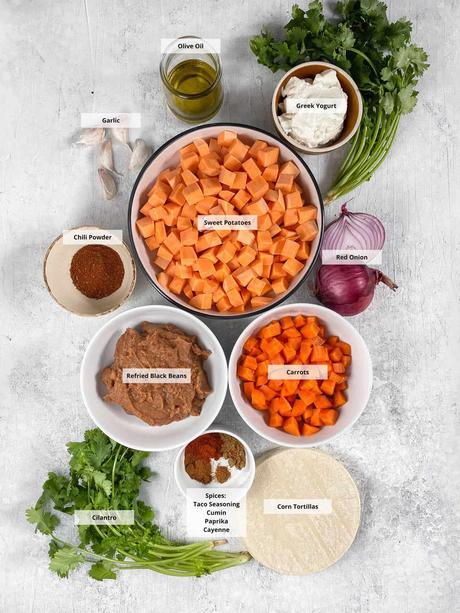 To make these tacos, you'll need the following ingredients:
Refried Black Beans: You could also use refried pinto beans if you don't have black beans!
Sweet Potatoes: Diced into small (1/2 inch) cubes for even cooking. You don't have to peel your potatoes for this dish!
Carrots: For added texture, and they pair really well with the sweet potatoes
Red Onion: We caramelize the onion slightly in the pan and it adds a wonderful sweetness to the tacos
Spices: Chili powder, paprika, cumin, cayenne pepper, garlic, salt, and taco seasoning add heat and a depth of flavor
Toppings: I used chopped cilantro here, but you can use any and all taco toppings that you enjoy!
Corn Tortillas: I used soft corn tortillas but to switch things up you can use crispy taco shells too
Plain Greek Yogurt: For the creamy Greek Yogurt taco sauce!
Step by Step Instructions
Step 1: Cut up your veggies: sweet potatoes, onions, and carrots. Meanwhile, heat the black beans over low heat and add 2 tsp taco seasoning (or to taste - the more you add, the spicier it will be).
Step 2: Saute the onions, carrots, sweet potatoes in olive oil over medium heat. Add in the garlic, chili powder, cumin, paprika, salt, and cayenne if you're using it. Let the mixture cook until the potatoes are soft. (If you want it to cook quickly, cover the pan and just stir every couple minutes).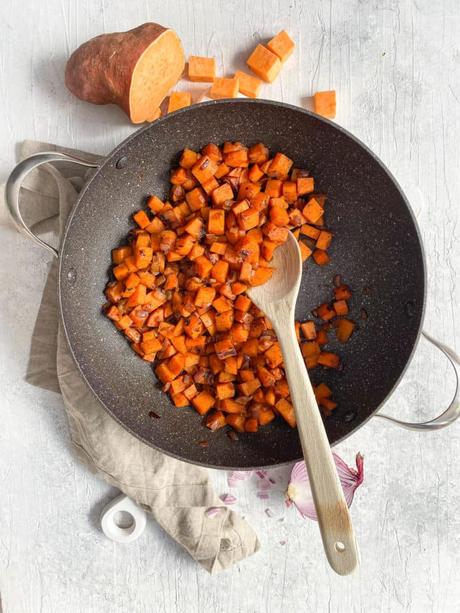 Step 3: While the veggies are cooking, chop your cilantro and set aside. Prepare your Greek yogurt sauce. Empty the yogurt into a bowl, and stir in 2 tsp of taco seasoning (taste it periodically to make sure it's achieved the spice level you want). Add 1-2 Tbsp water to thin out the yogurt mixture (the more water you add, the thinner it will get). Mix everything together until the yogurt is smooth.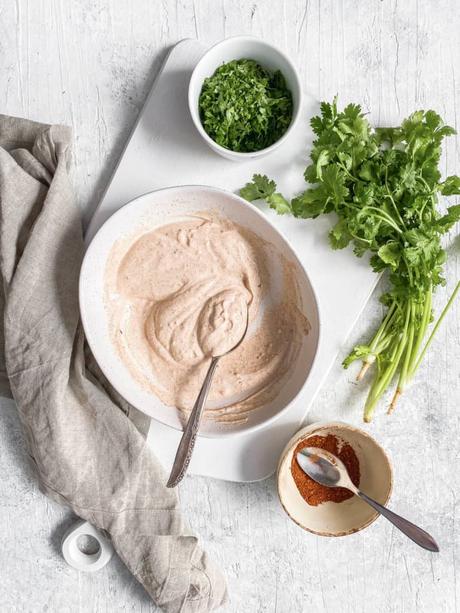 Step 4: Begin assembling your tacos! Heat up your corn tortillas, and on each tortilla put: 2-3 Tbsp refried black beans, 1/3 cup of the veggie mixture, 1-3 Tbsp of the yogurt mixture (depending on how much sauce you want), and a sprinkle of cilantro. Eat 'em while they're hot!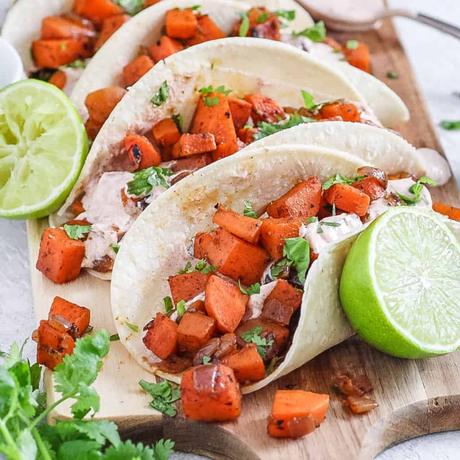 Are These Sweet Potato and Black Bean Tacos Healthy?
Absolutely! These are some tacos you can feel great about eating. Here are some of the ways they pack a nutritional punch:
Vitamins and Nutrients: Sweet potatoes are rich in iron, calcium, B Vitamins and Vitamin C. Along with the carrots, you'll also get a healthy dose of Vitamin A in this recipe!
High in Fiber and Protein: Just one taco will give you 7 grams of plant protein and 6 grams of filling fiber! Fiber is important for a healthy digestive system and protein keeps you fuller longer.
Low Calorie: You can enjoy two of these sweet potato tacos for just about 300 calories!! That means you can have taco night every night, totally guilt-free!
Recipe Variations
Make it Gluten Free: Most corn tortillas are already gluten-free, just check to make sure yours are certified gluten free.
Make it Vegan: Just switch out the yogurt sauce for some guacamole or pico de gallo, or a vegan sour cream!
Make it Kid Friendly: Truth be told, these sweet potato tacos are already super kid friendly! But since some kids can be sensitive to spicy food, to make it 100% picky-eater proof, you can switch out the yogurt sauce for some shredded cheese. I promise your kids will go crazy for this recipe!
Switch up the Toppings: Try adding some salsa, pico de gallo, finely diced white onion, avocado or guacamole, cabbage slaw, fresh lime wedges, queso fresco, cojita cheese, or a shredded Mexican cheese blend, or sliced jalapenos!
Add Tofu or Cauliflower: Tofu and cauliflower both roast up really nicely and would be a fun accompaniment to the sweet potatoes in this recipe. The tofu would also add some more protein to the dish!
How to Store and Keep
If you have leftovers, I recommend storing all of the taco ingredients separately. If you make the tacos and store them, they will get soggy.
To Store: Put the sweet potato filling in an airtight container. Put the yogurt sauce in a separate airtight container. Lastly, put the toppings in a third airtight container and place any remaining corn tortillas in a zip top bag. Place everything in the fridge. It will keep for up to 3-4 days.
Tips For Making The Best Sweet Potato Tacos
Cut your sweet potato and carrots into similar sized cubes, so they cook evenly.
Adjust all of the spices and salt to your tastes - for a spicier taco, add more taco seasoning and cayenne!
Try roasting the sweet potatoes instead of sautéing them for a more caramelized flavor.
Assemble the tacos right before you eat them, so they don't get soggy!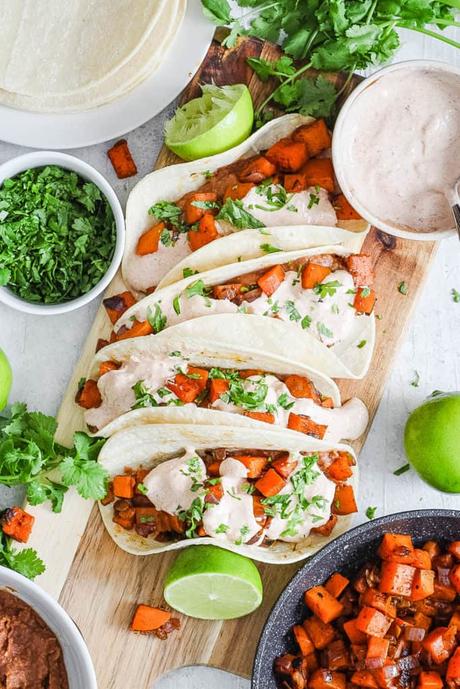 Check Out These Other Delicious Sweet Potato Recipes!
And For Even More Hearty Vegetarian Recipes, Try Some of These!
If you have tried this sweet potato taco recipe, or any other recipe on my blog, then please rate it and let me know how it turned out in the comments below! You can also FOLLOW ME on
FACEBOOK
,
TWITTER
, INSTAGRAM and
PINTEREST
to see more delicious, healthy, family friendly food!
Sweet Potato Tacos with a Spicy Yogurt Sauce