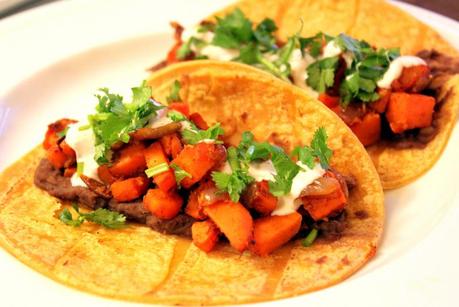 Sweet Potatoes and Greek Yogurt.
Not the traditional ingredients you'd normally find in a taco, right?
It doesn't matter – because these are some of the most delicious tacos you'll ever have!
When I told the husband I'd be making these tacos, he was surprisingly ok with (not freaked out by) the sweet potatoes. Then I said, "how do you feel about having a sour-creamy-type sauce instead of using cheese?" He said "sure."
Ok, ok. I didn't tell him it was yogurt. But the funny thing is, I wasn't deliberately trying to sneak the yogurt in – I was just having an imprecise moment as I tried to multitask and I didn't even think twice about it.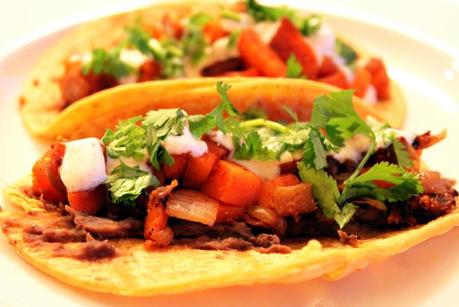 As the husband ate the tacos, he said they were "pretty good." Then I asked him if he wanted more yogurt sauce.
He looked at me and said, "you mean sour cream?"
I smiled and I said, "actually it's Greek Yogurt! You couldn't tell right?"
He made a face and he said, "you tricked me!" ……… "well maybe I could tell, it was a little thicker…."
But honestly, he couldn't really tell

I think he was more fake-annoyed that I snuck in the yogurt into this dish, and that it basically tasted just like sour cream. And he ended up eating almost 4 of these tacos. So I'd say that the yogurt sauce worked pretty well!
I loved the sweet / spicy flavor of these tacos. And between the black beans, sweet potatoes, veggies, and 0% Greek Yogurt – this is soo good for you!
The Ingredients
1.5 sweet potatoes, cut into small cubes
2 carrots, diced
1 red onion, diced
Cilantro, diced (it's a garnish, so use as much as you like)
1/2 heaping tsp chili powder (I would use about 1-1.5 tsp to increase the spiciness of the dish)
1 tsp paprika (I would use 2 tsp, again to increase the spice)
1/2 heaping tsp cumin (I would use 1-1.5 tsp)
1/8 tsp cayenne pepper (optional, if you like it spicy)
4-5 cloves garlic, minced
1 15 oz can refried black beans
Taco seasoning, to taste
1 6oz container of 0% Greek Yogurt
Corn tortillas
1 Tbsp olive oil
The Directions
Step 1: Cut up your veggies: sweet potatoes, onions, and carrots. Meanwhile, heat the black beans over low heat and add taco seasoning to taste (the more you add, the spicier it will be. I used a couple tsp)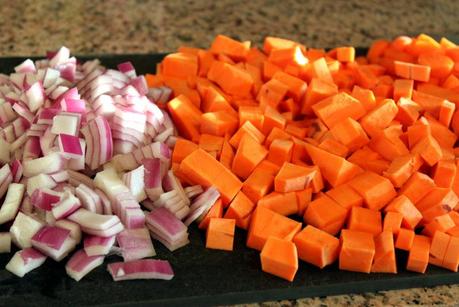 Step 2: Saute the onions, carrots, sweet potatoes in olive oil over medium heat. Add in the garlic, chili powder, cumin, paprika, and cayenne if you're using it. Let the mixture cook until the potatoes are soft. (If you want it to cook quickly, cover the pan and just stir every couple minutes)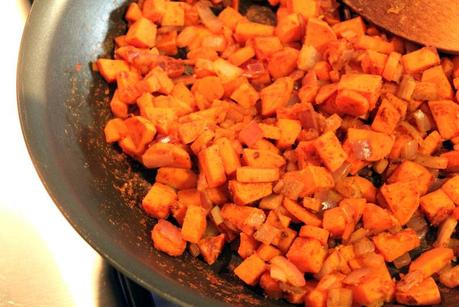 Step 3: While the veggies are cooking, chop your cilantro and set aside.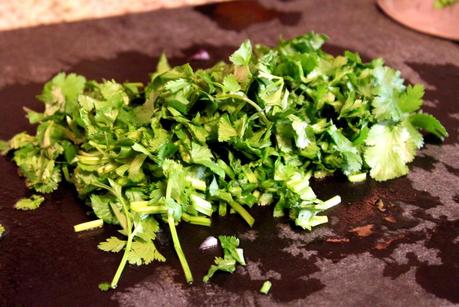 Step 4: Prepare your yogurt sauce. Empty the Greek Yogurt into a bowl, and stir in a couple tsp of taco seasoning (taste it periodically to make sure it's achieved the spice level you want). Add 1-2 Tbsp water to thin out the yogurt mixture (the more water you add, the thinner it will get). Mix everything together until the yogurt is smooth.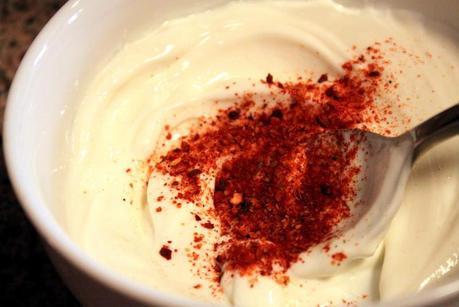 Once it's mixed completely, it will look like this: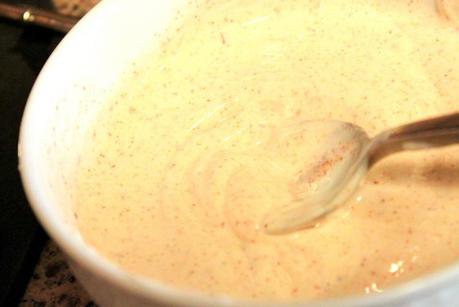 Step 5: Begin assembling your tacos! Heat up your corn tortillas, and on each tortilla put: 2-3 Tbsp refried black beans, 1/3 cup of the veggie mixture, 1-3 Tbsp of the yogurt mixture (depending on how much sauce you want), and a sprinkle of cilantro.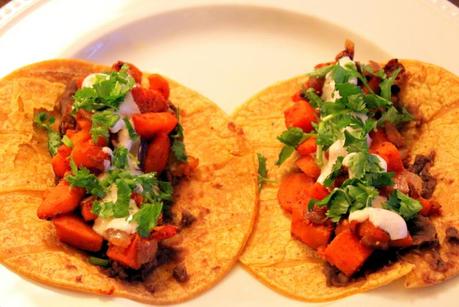 Eat 'em while they're hot!
I LOVED these tacos. The sweet potatoes became creamy after they were cooked and mixed in with the black beans perfectly. The carrots still had a bite to them which gave the veggies a bit more texture. The yogurt sauce cooled things down and was silky and delicious. And cilantro – I know, you either love it or you hate it. I happen to love it. We'll definitely be having these again soon!