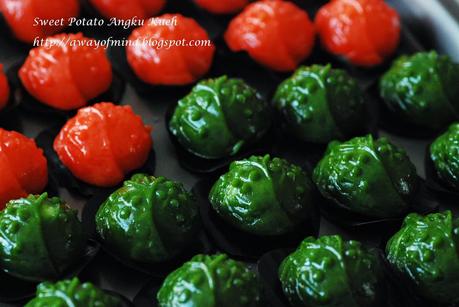 I was busy with making these Sweet Potato Mini Angku Kueh sometime ago. It is half the normal size of angku kueh. Verdict is: next time should make the pastry thicker a bit with less filling so to fit in the mini mold. I love to bite on the chewy soft pastry more than the mung bean filling! Lol! The Angku kueh pastry remained soft on the second day. 
Using previous recipe yield 59 pieces.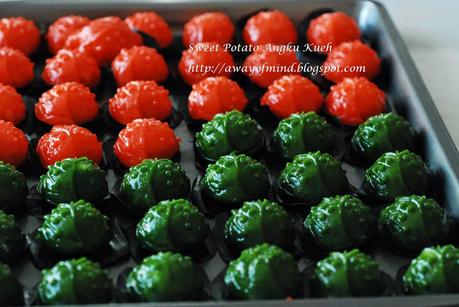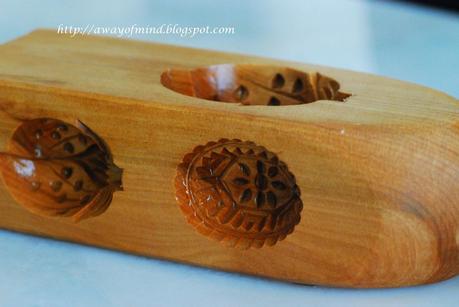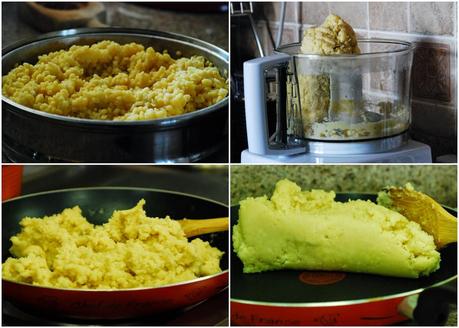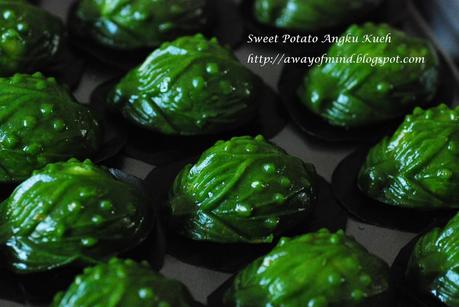 Ingredients for filling:

220g split skinned mung beans (soaked for more than an hour, drain and steam)




120g sugar




150ml pandan water (boil 200ml water with 5 pieces of pandan leaves)




1/4 tsp salt




50g cooking oil




Method:




1. Steam the mung beans for about 45 mins, then blend it while hot.




2. Boil 100ml pandan juice, sugar, salt in a wok till boiling.




3. Pour in the blended mung beans and fry.




4. Add in oil and fry till the mung beans mixture almost dry and mix well. 




5. Remove from fire and set aside to cool.




6. Divide the mung beans into small balls.


Ingredients for the pastry:


300g sweet potatoes (steamed and mashed)




200g glutinous rice flour




1 tbsp rice flour




2 tbsp sugar




3 tbsp cooking oil




150ml water (gradually add in may not add all depends on the water content in sweet potatoes)




a few drops of red food colouring




Method for pastry:

1. 

Mixed all ingredients by hand.

2. 

Make into a dough, leave for 20-30 minutes.

3. 

Grab a portion then wrapped in the filling.

4. 

Dust the mold and dough with some glutinous rice flour before pressing in the dough.

5. 

Knock out & place on the cut & greased banana leafs.

6. 

Brush a bit of oil on top of the cut banana leafs before placing the dough on top.

7. 

Use a steamer, steam on medium heat for 8-10 minutes.

8. 

When its done, brush oil on top of each kueh to prevent sticking together.