File this under "things that taste better than they look."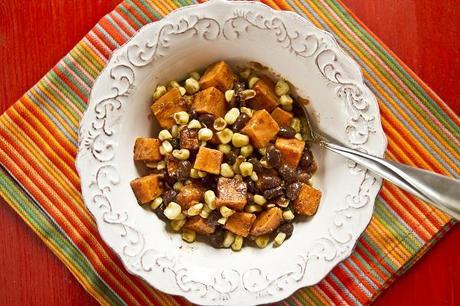 The good news is that, for all its homeliness, I've FINALLY found a vegan recipe that both Andy and I can enjoy in equal measure. This gives me hope for the future.
See, although neither of us loathe vegetables entirely, our respective tastes never seem to line up, so the fact that our preferences have coordinated enough to create this little oasis of vegetable unanimity is nothing short of a Saturnalia miracle.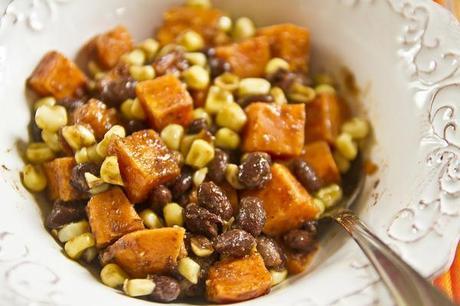 Yeah, yeah, technically sweet potatoes are a starch, corn is a grain, and black beans are legumes. DON'T RUIN THIS MOMENT FOR ME.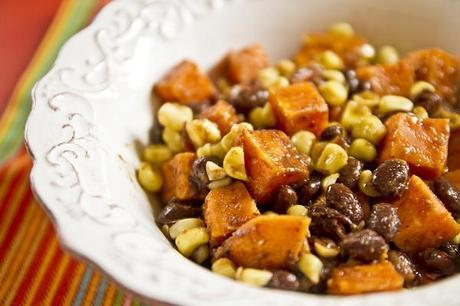 This hash is a great transitionary recipe, perfectly suited to that golden  limbo between summer and fall. It's so simple and straightforward, it hardly requires a recipe, but here's one for good measure. Assuming you're less vegetable-averse than either Andy or myself, you can also add in diced tomatoes, onions, or even hot peppers for an extra kick. Get creative!
ingredients
2 medium sweet potatoes, peeled and cubed
2 ears fresh corn, or 1 c frozen or canned corn
1 16oz can black beans
2-4 tbsp olive oil
1 tbsp fajita seasoning (I use Don Sazon)
1 tsp chili powder
1/2 tsp black pepper
2 tsp salt, to taste
directions
1. In a large skillet over medium heat, add sweet potatoes and olive oil and toss to coat. Cover and let cook for 10 minutes, or until soft.
2. Meanwhile, if you're using fresh corn, shuck and boil your corn until cooked, about 10 minutes. Once the cobs are cool enough to handle, slice off the kernels (I use this trick for easy corn de-kerneling) and add to the sweet potatoes.
3. Drain your black beans and add to the sweet potatoes and corn. Add your spices (fajita seasoning, chili powder, pepper, and salt) to taste, continuing to stir until all the ingredients are heated through.
4. Serve over rice or lentils, in a wrap, with tortilla chips, or just by itself!