This post may contain affiliate links. Please read my disclosure.
This creamy sweet potato and carrot soup is made with white beans for a full and hearty meal. Packed full of nutritious ingredients, this low fat soup is vegetarian and easily made vegan. Kid-friendly and only 10 minutes of prep time involved!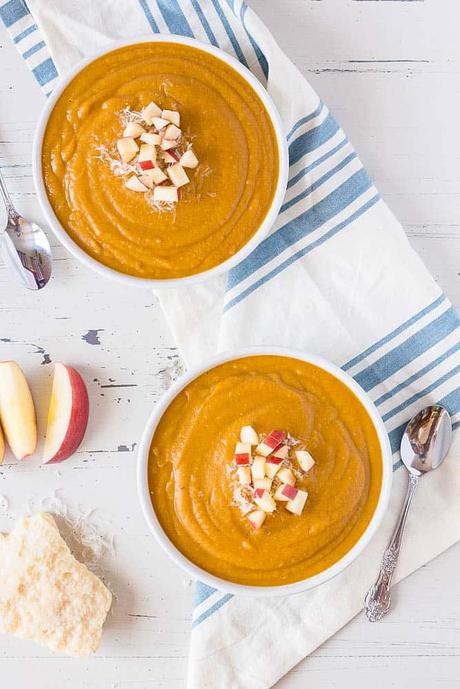 There's nothing more comforting than a hearty bowl of soup on a cold winter day. And when I'm pressed for time, I'm all about one-pot meals. I love the vibrant orange color of this soup - it's a nice contrast to what could otherwise be a dark winter day!
This is the kind of soup that is easy enough to pull together on a weeknight. It's also easy to throw the ingredients for this soup in a slow cooker and come home in the evening to the wonderful aroma of sweet potatoes and spices. All you have to do is blend the soup, and you'll have a meal ready in minutes.
This is a great soup all year round, but it really is perfect for fall. It's great as a side dish or appetizer for a holiday party, or as a main meal for the whole family. Serve it with some crusty bread and you can cozy up with this bowl of soup when the temperature outside starts to drop!
KITCHEN TOOLS AND EQUIPMENT YOU'LL NEED TO MAKE SWEET POTATO AND CARROT SOUP
How to make this Sweet Potato and Carrot Soup - Step by Step
Step 1: Add olive oil, onion, garlic, salt and pepper into a large pot over medium heat. Sauté until onion is translucent, about 10 min.
Step 2: Add sweet potatoes, carrots, broth, beans, and sage and bring to a boil. Reduce to a simmer and cook until potatoes are very tender - up to 30 minutes (depending on how hot your stove gets!)
Step 3: Using an immersion blender, blend the soup until smooth.
Step 4: Season to taste with salt and pepper as needed. Serve topped with diced apple (1-2 tbsp) and 1 tbsp grated parmesan cheese.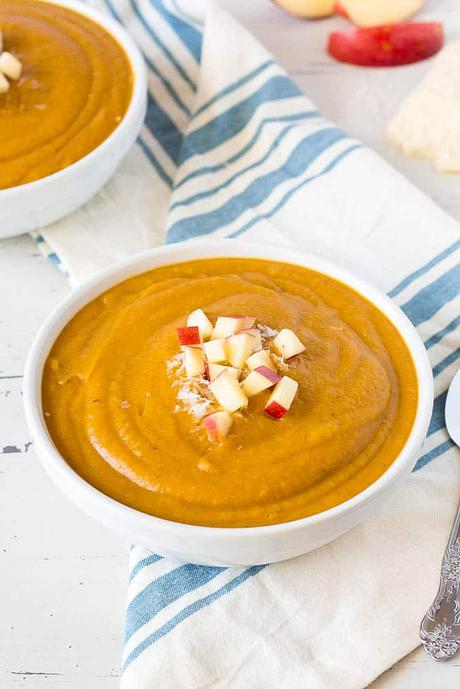 What makes this Sweet Potato and Carrot Soup healthy?
Low Fat and Low Calorie: One large serving of this soup is under 300 calories and only 3 grams of fat.
High in Vitamins and Nutrients: This soup contains many vitamins and minerals including iron, calcium, and selenium. It's also a good source of most of our B vitamins and vitamin C. One of the key nutritional benefits of sweet potato is that they're high in an antioxidant known as beta-carotene, which converts to vitamin A once consumed. Vitamin A is essential for many processes in your body, including maintaining healthy vision, ensuring the normal function of your immune system and organs and aiding in the proper growth and development of babies in the womb. White beans are packed with folate, vitamin B1 (thiamin), potassium, magnesium, and iron.
High in Fiber: Sweet potatoes and white beans are high in fiber which aids in digestion and helps you feel fuller longer. One bowl of this delicious soup has 30% of your recommended daily fiber.
Low in Sugar: There is no added sugar in this soup. The natural sugars from the soup come from the apples and sweet potatoes.
Will the kids enjoy this Sweet Potato and Carrot Soup?
My kids enjoyed this soup because of the creamy texture and natural sweetness of the sweet potatoes and carrots combined with the white beans. It's got a subtle flavor that's not too overpowering, which makes it perfect for kids. It's loaded with vegetables and plant protein but because it's blended into a smooth consistency they don't even realize how many vitamins and nutrients they're getting!
How do you make this Sweet Potato Carrot Soup vegan?
I love how rich and creamy this soup is, despite there being no dairy in it! The beans and sweet potato give it an amazing texture that is irresistible! I finished the soup with a sprinkling of parmesan cheese, but you can easily omit this if you are following a vegan or dairy free diet.
Can you freeze Sweet Potato and Carrot Soup?
While freezing chunky soups or stews can sometimes be tricky, pureed ones tend to be totally foolproof. Since there is no cream in this soup, the pureed squash and root vegetables in this soup have almost the exact same texture after freezing. Just make sure to continuously whisk the soup while heating. This soup is good for up to 3 months in the freezer.
How To Garnish This Soup
You can dice some apples, sprinkle on some Parmesan cheese, both lovely garnishes! You can also add some crispy sage leaves, which would be so good! Crispy sage adds another texture, and the flavor works great with sweet potato.
What To Serve with this Sweet Potato and Carrot Soup
This is a hearty soup on it's own. But it tastes great with a few garnishes to give it a little added crunch and flavor. Here are some of our favorites:
Diced Apples
Sprinkle of Parmesan cheese
Greek Yogurt
Sour Cream
Toasted almonds, pecans, or walnuts
Sage leaves
Chives
Green onion
The following would be delicious sides to serve along with your soup:
Fresh green salad with a vinaigrette dressing
Crispy garlic broccoli
Crusty whole grain bread
Whole wheat garlic rolls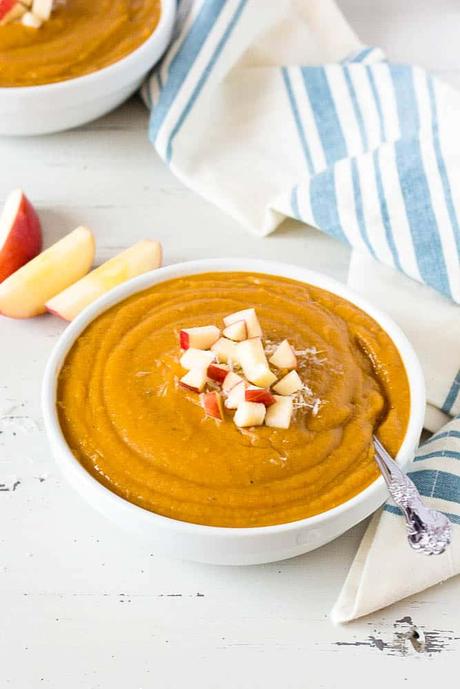 If you don't have an immersion blender, you can use an upright one and blend the soup in batches. Just be careful as it will be very hot. Don't fill your blender to the top with the soup ingredients as it will expand. Fill halfway and blend in batches.
Use a low sodium vegetable broth to reduce salt.
The soup will keep for around three days in an airtight container in the fridge.
The soup freezes really well, so it's great for batch cooking.
Portion your sizes. If you're serving a hot soup, make sure it's hot. Also, the ideal serving size for an appetizer portion is about 1 cup (250ml), while a meal portion is about 1 1/3 cups (350ml).
Let hot soups cool at room temperature, uncovered for 1 to 1/2 hours, or until almost at room temperature. Cover and refrigerate until cold. Soups can last in the fridge for up to three days.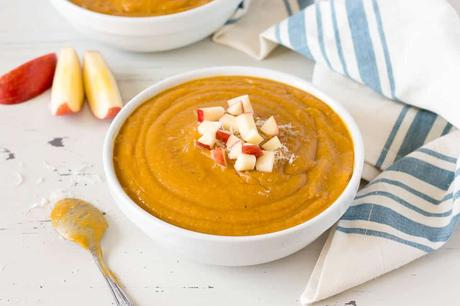 If you have tried this Sweet potato and Carrot Soup recipe, or any other recipe on my blog, then please rate it and let me know how it turned out in the comments below! You can also FOLLOW ME on FACEBOOK, TWITTER, INSTAGRAM and PINTEREST to see more delicious, healthy, family friendly food!
Top tips for Making Sweet Potato and Carrot Soup
Be sure to check out these other healthy soup recipes!
Sweet Potato and Carrot Soup with White Beans