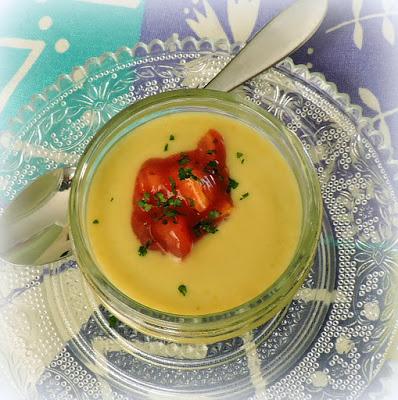 I never thought I would like a cold soup.  I mean, isn't soup supposed to be served hot?  Cold soup has just never appealed to me before NOW!  And with just one spoonful of this fabulous ice cold Sweet Pea & Avocado Vichyssoise, I have converted into a lover of cold soup, or at the very least a lover of THIS cold soup!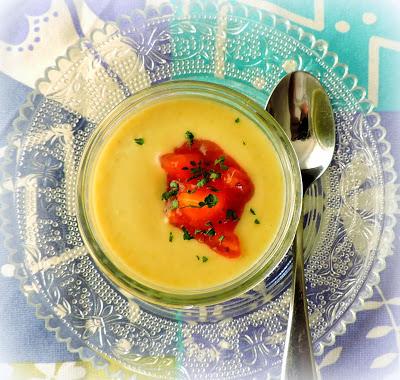 The recipe is one I adapted from the cookery book entitled "Seriously Simple," by Diane Rossen Worthington.  Its a book I have had in my bookcase for a number of years now, and after having made this soup at the weekend, I wondered why I did not refer to this book more often than I do.  It is quite simply delicious as has been any recipe I have cooked from this book.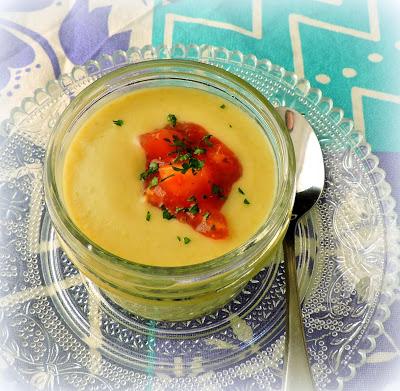 Simple ingredients put together in an amazing and delicious way.  This is the way I love to cook and to eat.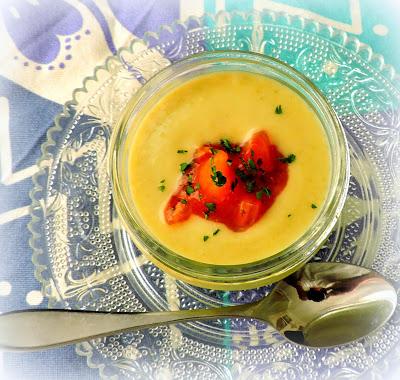 It takes simple things like frozen petit pois . . .  fresh avocado . . .  sour cream . . . fresh salsa . . .chicken stock . . .lemon juice  . . .  spring onions  . . . a bit of seasoning  . . .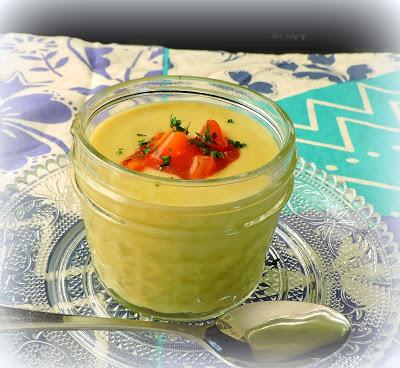 Nothing in the list is really out of the ordinary, unless you count the avocado pear  . . .  and they are very common here in the UK now, so not a problem.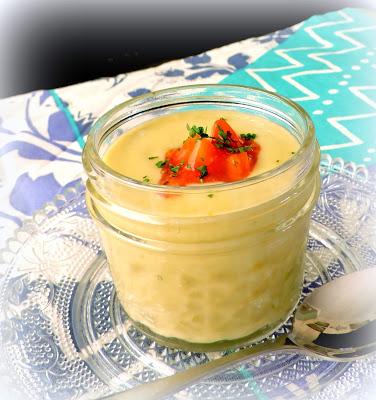 All blitzed together until smooth and creamy.  I pushed mine through a sieve to get rid of any little bits . . .  because I am pedantic like that.  Diane did not call for that step, but I really thought this soup would be better without them. I think I was right, at least presentation-wise.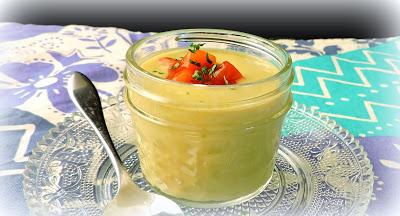 This was quite simply beautiful, delicious . . .  creamy, flavourful  . . .  very tasty!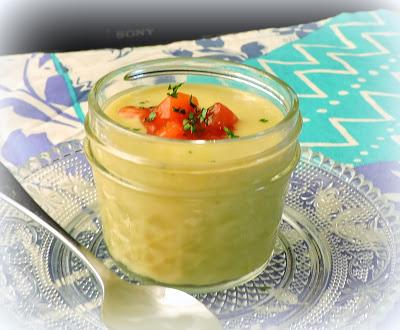 She suggests that a clever cook could choose to garnish with some shredded cucumber & carrot, or a fresh corn relish (can you imagine how pretty that would be?), cooked shrimp, lobster or crab meat  . . .  all beautiful suggestions.  I garnished with some fresh tomato salsa.  Sour cream and slivered spring onion would also be very pretty and delicious.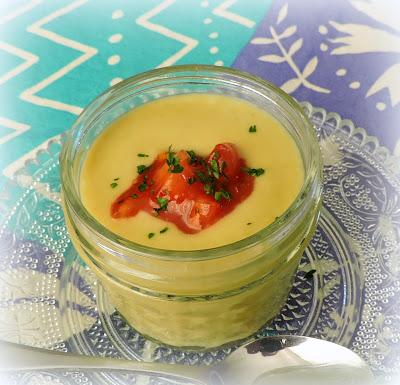 If there was one drawback to this soup, and I am really having to stretch here, it would be that you do need a blender or a food processor, but they are pretty standard appliances in most kitchens today. I could not live without mine. I have a lovely stick blender as well as a food processor and they both get regular workouts!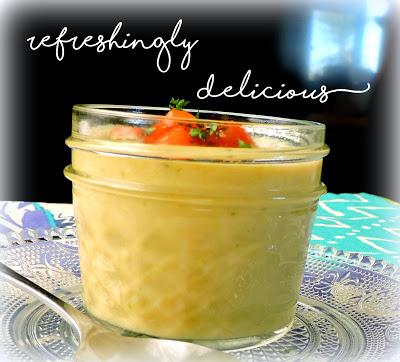 I served this in chilled half pint canning jars, set on cut glass plates, which made for a really lovely presentation.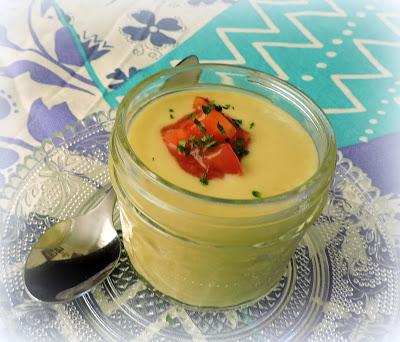 This was fabulous.  Really fabulous. If you are looking for a delicious first course for your summer entertaining needs, look no further.  This is perfect!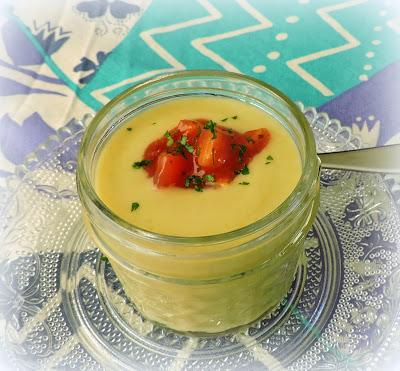 *Sweet Pea & Avocado Vichyssoise*Serves 4Printable Recipe  

This is so simple to make and incredibly delicious. The perfect summer soup.  Serve in small chilled cups. (You will need a blender or food processor) 
1 large ripe avocado, peeled, pitted and cut into chunks150g frozen petit pois, thawed (1 cup)600ml of cold chicken stock (2 1/2 cups)3 spring onions, thinly sliced (the light green and white parts only)3 TBS fresh lemon juice40g sour cream (1/2 cup)salt and black pepper to taste4 TBS fresh tomato salsa, divided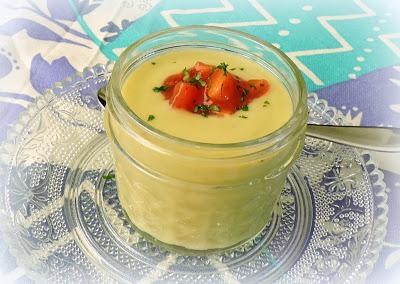 Put the avocado and thawed peas into a blender or food processor.  Blitz until completely smooth. Add the chicken stock, spring onions, lemon juice, sour cream and 3 TBS of the salsa.  Blitz until well combined and smooth.  Taste and adjust seasoning as desired.  I then like to push mine through a sieve, which is not necessary, but makes for a smoother soup.  Push through a seive and discard any solids.  Chill, covered in the refrigerator for at least 2 hours.  Serve in chilled cups with a dab of the reserved salsa on top.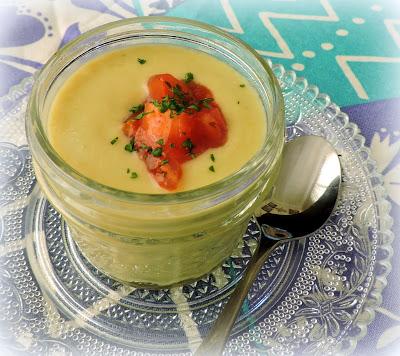 Cold soup . . . yum.  I am converted. I just wish I had taken the photos yesterday instead of this morning so you can see how truly vibrant the color is.  Alas, my day got away from me, and I did them this morning instead.  Yes . . .  I did eat this for breakfast, and I gobbled up every scrap of it.  It was delicious (and now you know what a true glutton I really am.) Oh, and I was also able to successfully cut the recipe in half. This is plain and simple gorgeous!  Bon appetit and Happy Summer!