Sometime last year, I tried this sweet corn pudding (chè bắp) from a Viet stall in Garden by the bay.  It was nice.  So when I saw this on IG, I knew right away I need to attempt it.  If it is good, it will be saved for my girl to try next time.
The first time I did this, I misread and added too much rice to it.  Luckily it still tasted good.
This time around, I was determined to do it right.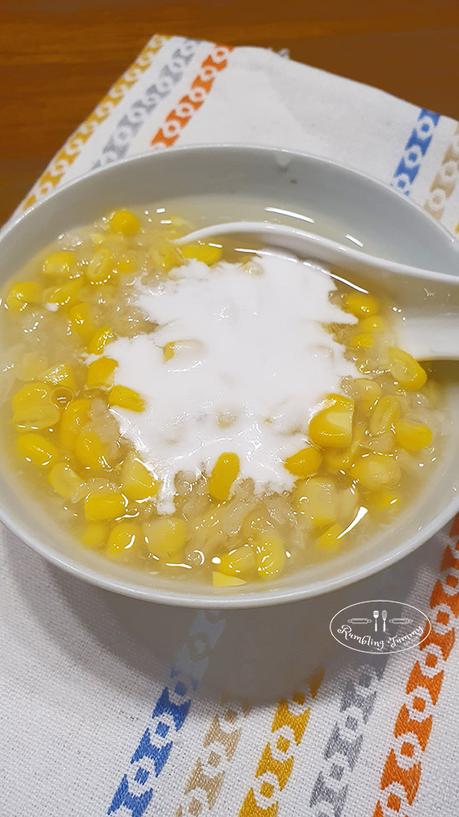 Learning experience:
Make sure you use good quality corn as it makes a difference in taste.


Source


What you need:
300g corn (fresh corn kernel) 30g glutinous rice3 cups water6 pandan leaves3 tbsp sugar 
Coconut sauce
60g coconut cream1 tbsp sugar¼ tsp salt
Method:
In a pot, combine corn cobs, pandan leaves and water.  Simmer for ½ hour.
Remove the cobs and add in the glutinous rice.  Simmer until rice is soft (15 mins)
Add the kernel and simmer another 15 mins until the mixture has thickened.
Stir occasionally to prevent the rice from burning at the bottom of the pot.
Add more water if the soup is too thick.
Add sugar to taste.
Coconut sauce
In a small pot, combine coconut cream, sugar, and salt.  Stir on medium heat until sugar is dissolved and bubbles on the edge.
Do not boil.
To serve, add a little coconut sauce to the corn pudding.
Enjoy!


If you have enjoyed this post by Rumbling Tummy, be sure to follow her on Facebook, Instagram, Pinterest, Twitter