Try something truly unique and add a bit of Korean flavor to some simple meatballs; these Sweet and Spicy Korean Meatballs are amazing!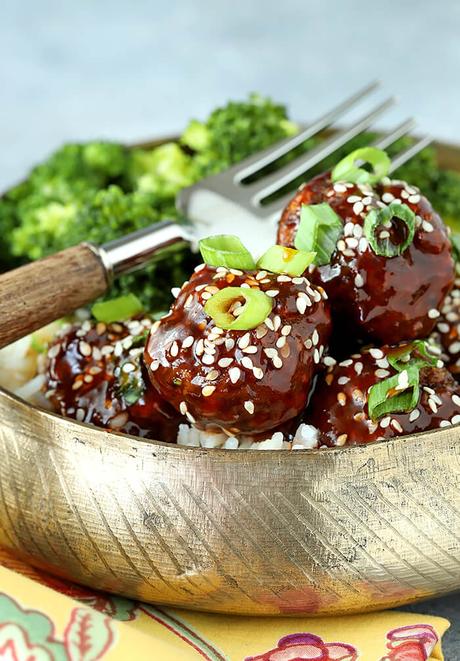 A couple of months ago I ventured into trying a Korean specialty; Korean Fried Chicken. While the technique was different than the norm, it was the Gochujang red pepper paste in the sauce that really made the dish. I wanted to try something else that might be easier so fashioned these Korean Style Meatballs with the same sauce. Success!
I realize that there is a lot of language today about cultural misappropriation...cooks offering up their expertise on dishes that they have grown to love but that are not a part of their own ethnic heritage. I understand that concern in the most egregious of cases, but I also love trying something new and hope my readers will too as I delve into the occasional sharing of some favorite Korean foods.
I was simply inspired to make this dish because I loved that fried chicken so much. I wanted something easier to make but that had flavors reminiscent of that delicious chicken (and sauce) but without the hassle of double frying chicken. Sweet and spicy is the truth...and I love that combination of sweet with a bit of heat...and if you like hotter, add more of the red pepper paste!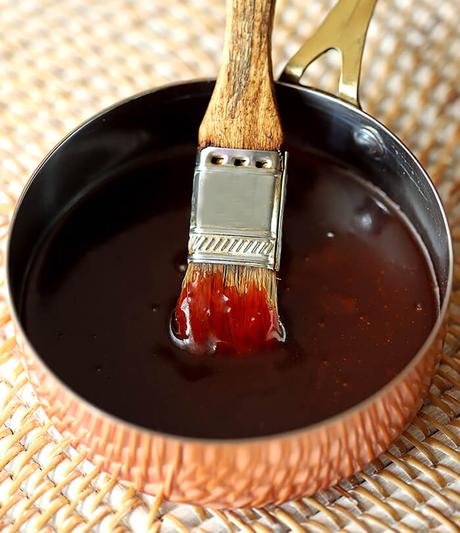 The meatballs are certainly flavored with ingredients that give them that Asian flair; most notably ginger, garlic, and soy sauce but seriously, it's all about the glaze. Here's what you will need for it: ( Complete recipe and directions at the end of this post).
3 Tablespoons ketchup
2 Tablespoons Gochujang (Korean chili paste), add 1/2 to 1 Tablespoons more to make it spicier
1/4 cup honey
1/4 cup brown sugar
2 Tablespoons rice vinegar (Sub plain white or apple cider vinegar if you have no rice vinegar)
1 Tablespoon soy sauce
1 Tablespoon sesame oil
2 Tablespoons minced garlic
This comes together easily too; combine the ingredients for the meatballs and form them and place on a cookie sheet to bake in the oven. While they are baking, you can make the sauce. When they're done, glaze them, garnish them and serve them. I did originally make them for appetizers but on a second night, I served them on top of Basmati Rice for a meal...great both ways!
You can also make them ahead of time and freeze them; either raw or cooked. Either way they'll be baked in the oven and then glazed with the sauce. I love these so much that I make a double batch knowing I'll freeze some and can grab a handful on a whim. They are so good, bet you will too!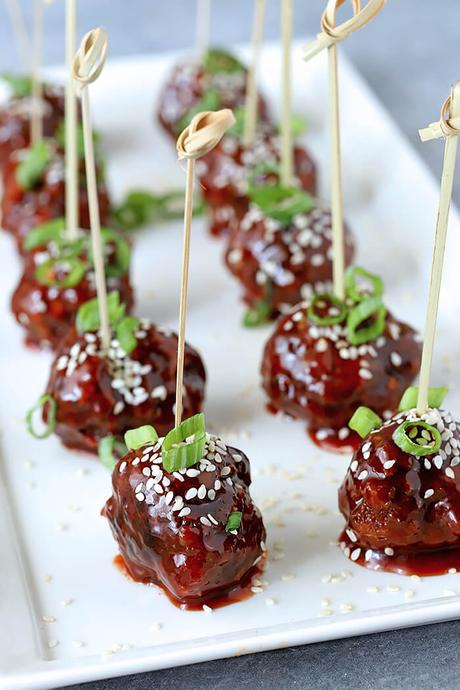 Little did I know that my idea of combining some ground meat with ginger and other spices and coating it with the same sauce would not be a unique idea...so while some might consider this appropriation, it is not. I have always said this blog is about sharing the foods I love and we really loved these meatballs. I'm sharing them so you can try something new and unique too!
I am grateful to that first recipe that had me try Gochujang Red Pepper Paste ( affiliate link). Never in my wildest dreams would I have picked up a container of something fermented that was made with red peppers if not influenced by a friend who insisted I try Korean Fried Chicken, sight unseen. It adds the most wonderful flavor to these sauces. I think you could probably find it at a Korean market but I ordered mine online.
These would be perfect for an upcoming get together. Easy to prepare and when serving, can be presented as shown with disposable appetizer sticks so each guest can grab their own. Make a lot; I assure you they will come back for seconds...even thirds!
PIN IT! 'Sweet and Spicy Korean Meatballs'

Want More Cocktails? Check out Friday Cocktails with hundreds of fantastic drinks! →