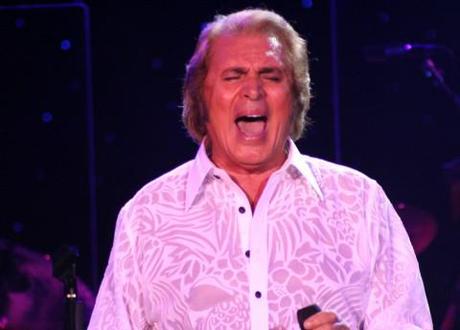 Eurovision 2012: A bad result for The Hump photo: rockinred1969
Sweden wins, Hump dumped
Sweden's Loreen stormed to Eurovision 2012 victory with dance number Eurphoria. Hotly-tipped Russian act Buranovskiye Babushki, AKA The Russian Grannies, took second place, despite concerted on-stage cavorting with an oven. And the UK limped in at second from last, as 76-year-old Engelbert Humperdinck, nicknamed The Hump, failed to win over voters.
Read more about about the background to Eurovision 2012 at The Periscope Post.
An Amy Winehouse impersonator and Jamie Cullum
Jim Shelley provided a run-down of the Eurovision acts in The Mirror, including the UK's doomed entry: "Sensibly for once, the UK had selected a large-breasted brunette with Lovely Hair. Unfortunately, it was Englebert Humperdinck." Shelley praised Italy's "fairly decent" Amy Winehouse-esque act, and pointed out that British jazz singer Jamie Cullum wrote the German entry; he will "presumably, now be deported for treason".
Eurovision is about politics, not music
"Eurovision has long been continental politics fought with ballads instead of bombs and 2012 was the most politicised contest yet," wrote Mark Lawson in The Guardian. Lawson pointed out that there was the inevitable solidarity voting – Serbia and Montenegro "high-twelving each other", for example – as well as evidence of "mutual hostility": "Germany and Greece, bitterly divided by the European financial crisis, pointedly blanked each other."
Time for UK to withdraw from Eurovision?
"British viewers flooded websites and social networking sites with calls for the BBC to quit the contest," reported Anita Singh for The Telegraph. According to Singh, many viewers were unimpressed at the "political" voting, which means the UK hasn't got a chance of winning, whatever the song. However, "a BBC spokesman said political voting did not choose the winner but did affect the 'mid-table positions'".
Eurovision is trashy but addictive
There is something oddly addictive about Eurovision, wrote Jenni Murray in The Daily Mail: "Once we've sat down and started to watch the contest, that's it. We're hooked." Admitting to watching Eurovision is deeply embarrassing, but at least the rise of Twitter has allowed fellow shamefaced fans to come together: "There's some comfort in turning to Twitter and seeing how many others are similarly seduced. On Saturday night there was a deluge of tweets as Eurovision trended around the world."
What about Azerbaijan's human rights record?
Winner Loreen was "one of the few participants who did not put their fingers in their ears, as debates raged about Azerbaijan's human rights record in the run-up to the contest", pointed out Richard Osley in The Independent. "It was reported that she had even met activists opposed to government clampdowns on freedom of expression in the days before performing."
See Sweden's winning Eurovision entry, Euphoria