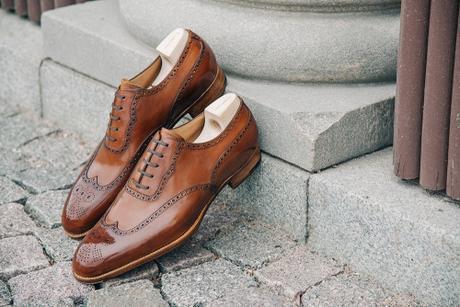 There's been a lot of excitement and speculation in the last few weeks, ever since Skoaktiebolaget announced that they'll be bringing a new label into their store. Yesterday, they held a special event for the big reveal. Apparently, the new label will be … drum roll, please … Saint Crispin's, the Eastern European maker of hand-welted, peg-waisted shoes. 

This is big news. Not just because we have another retailer for Saint Crispin's, but because the exchange rate between the US Dollar and Swedish Krona is so good (well, for Americans anyway). At the moment, with VAT discounts, the starting price for Saint Crispin's will be just north of $1,000. That's a good $500-600 less than what you'd pay elsewhere (although, as always with ordering from abroad, some of those savings could be washed out by import taxes). 
The store currently carries nine in-stock models. There are some dandy options, such as the jade green austerity brogues, cloud gray wholecuts, and pair of "devil red" chukkas (those might require a bit of gusto to wear). Then there are some conservative pieces, such as these beautifully designed wingtips, finely shaped oxfords, and uniquely grained "Russian calf" split-toes (note, this is a printed calf, not the 200 year-old Russian leather that was recovered from a sunken brigantine). Since there's no up-charge for basic custom orders, however, you can essentially order anything you want for the price of ready-to-wear. 
I've bought almost all my shoes in the last year through Skoaktiebolaget. The sale reps are eager to accommodate, quick to respond, and – unlike some non-UK, European retailers – speak perfect English. The excellent service and favorable exchange rate has made this Stockholm store a great source for higher-end footwear. And as of yesterday, this now extends to some pretty Swede deals on Saint Crispin's.