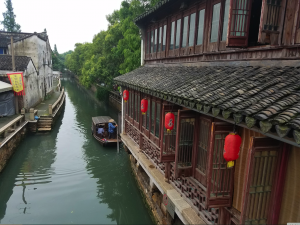 Suzhou canal
Suzhou is conveniently located about an hour ride on the bullet train from Shanghai. Not only is the experience of riding China's ultra-modern high speed railway system a draw in itself, it also makes it feasible for an easy day trip to the Suzhou to wander its alleys, enjoy its foods, meet friendly locals, marvel at pagodas and stone bridges, take a boat tour of the canals and visit various UNESCO World Heritage Sites.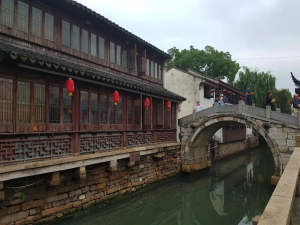 Suzhou stone bridge
th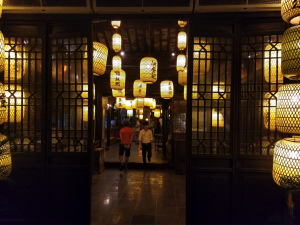 Walk into any restaurant and you'll find friendly locals, happy to engage with you and recommend their favorite dish. You'll not lack for selection and the food is generally quite good. (Except, when it's not. There was one dish that, as best as I can tell, was chicken legs cooked in a brown marinade that literally reeked like human feces. While I am generally quite open to sampling new foods, even ones that I may not find palatable, I simply could not get myself to taste this one, thus forever depriving myself of the experience.)
Suzhou offers more than just canals and "diverse" foods, though. It's many famous classical gardens have been designated UNESCO World Heritage Sites. The Garden of the Humble Administrator, in particular, dates back over 500 years to the early Ming dynasty and is considered one of China's four great gardens. A leisurely stroll through this lush, sub-tropical garden can easily take two hours. There are also numerous scenic lakes nearby for recreational activities, and locals speak particularly highly of Jinji lake.
Garden of the Humble Administrator
Garden of the Humble Administrator
Read any travel column about Suzhou and you'll note that comparisons with Venice are inevitable. Though the buildings of Venice are irrefutably more ornate, in Suzhou, one is at least spared that meretricious and dreadful "tourist trap" atmosphere. And while not nearly as famous as nearby Shanghai, Suzhou offers much more of the quixotic and picturesque feel that its neighbor has lost in its rush to modernize. For visitors to Shanghai seeking perspective, and perhaps some of the same charm that Marco Polo experienced some seven centuries earlier, Suzhou offers the perfect remedy.
Suzhou canals
"Rich Pig" dumplings