He was lovely as always and told us about the restaurant where he now works: Sushi Salsa (also in Camden, overlooking the canal and the Camden Lock). With that name, I have to admit, I would never have gone in should we not have met him on that day.
The cynical side of me, which believe it or not does exist although you may not have seen because I keep in check, would have told me something like "Is this related, in any way, to the City-boy friendly Sushi Samba? and if not, are they trying to look as though they are?" Either way and as superfluous as it sounds, I would not have made an effort to go in. And you know what? I would have been an
Either way and as superfluous as it sounds, I would not have made an effort to go in. And you know what? I would have been an idget (from the Irish word to define a stupid person) for that this would have meant I'd be missing out on a great find.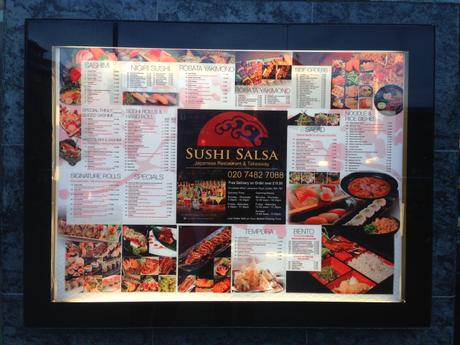 This is a large restaurant, located in a (sweet irony) CZWG Architects building. (Yes, the studio where I spend 8 years and a week and which I left last March ). The layout is modern and clean and although it has many tables, it has been designed to give the impression of a more intimate setting.
It is worth mentioning that you can choose to sit on high (western) tables of low (Japanese) tables, which in my opinion helps break down the scale and make the experience feel more authentic.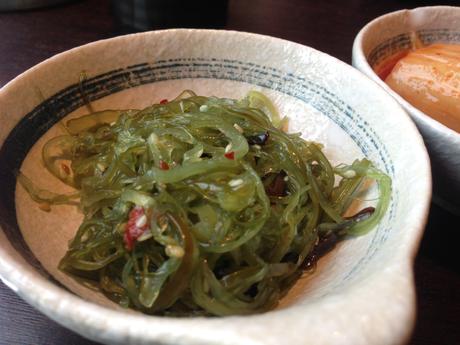 Wakame salad with sesame dressing.
The menu is typical of a Korean/Japanese restaurant in London, but the way each one of the dishes is cooked is quite better than what you find else where in town.
We started with two small side dishes to acompany our wine (a good house white, Baron D'Arignac 2014) : A kimchi (A Korean spicy pickled cabbage) and a wakame (seaweed) salad with a delicious Japanese dressing.
The wakame was fresh and delicious and the Kimchi was completely unusual. Milder than the traditional one (probably for the western palet), it had a touch of sweetness that would have been perfect with beer. (Be mindful if you visit)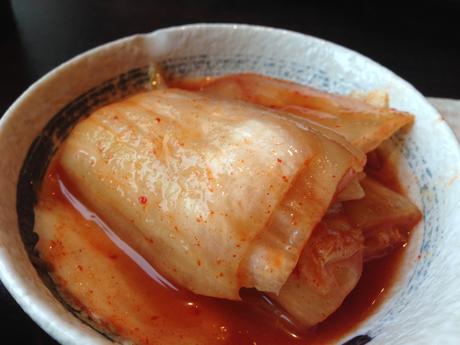 Home made kimuchi. (Korean style cabage)
We followed those with the Family Set (Chef's selection of nigiri and sushi cut-roll).
As a general rule, the best thing about selecting  the "chef's selection" in any fish restaurant is that you tend to get the fish that is fresh at that particular time and so, it is generally advisable.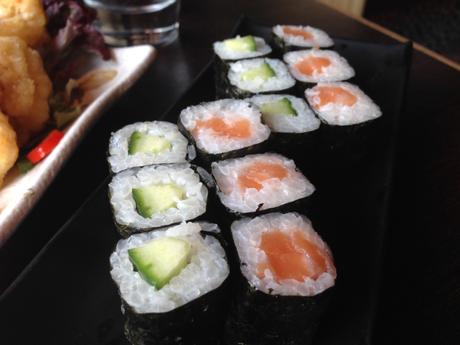 Salmon and cucumber sushi rolls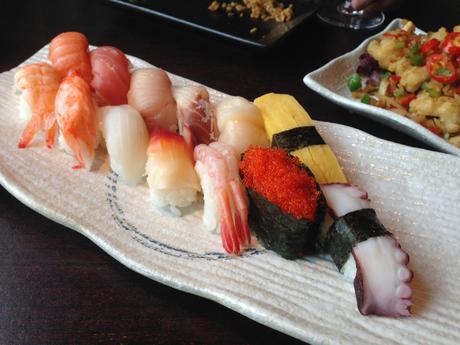 Chef's selection of nigiri
The nigiri selection was particularly good. It is rare in London to find Amaebi (uncooked sweet prawns) , Hokkigal (surf clam) and/or Hotate (scalops) in a selection , but as you can see, you will at this restaurant.
I notice that looking at my mobile photos, they don't do justice to the food, but I guess that until you visit and taste those , you will have to take my word for it.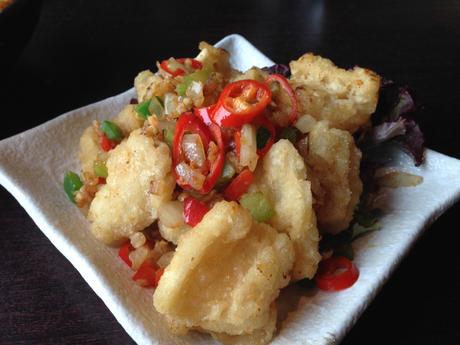 Salt and pepper squid
Another surprise was the squid. My husband is a fan of this dish and I guarantee that if any version of it is in the menu (whether Italian, Spanish, Chinese, Vietnamese or Japanese) , he will order it.
In this particular version, the butter was double and as such, crispier than usual.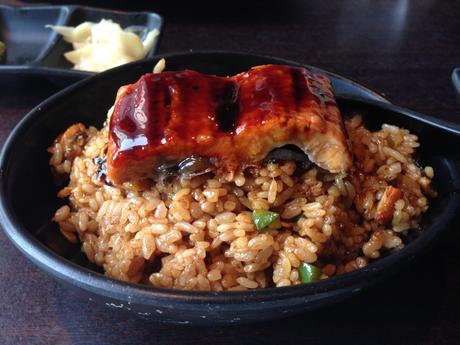 Fried rice with unagi (eel)
I saved our ultimate favorite to last. The eel fried rice was spectacular and well worth returning for more (on its own even). The combination of fantastic ingredients and great cooking skills made it a dish to remember and, I think, a signature dish for this restaurant.
I have seen (and tested) many attempts to cook unadon (eel on white rice) in London, but I had never seen a unagi meshi (this is how Japanese refer to as a dish where the rice is not separate from the main ingredient) before. Other popular "meshi"s are taco (octopus) meshi and kaki (oyster) meshi. I recommend you try those when/if you come across them.
Overall, this restaurant left us happy to know that when we feel like eating some Japanese food without cooking it ourselves, we can always pop by. This, to us, is a good start.
Photographyby Cristina Lanz-Azcarate
Text by Cristina Lanz-Azcarate
Please feel free to use this story for your own personal use, not commercially. All images are property of the author as specified and all rights are reserved. If you wanted to share any of the information provided, post a link to the website but do not extract/copy the information without prior permission.