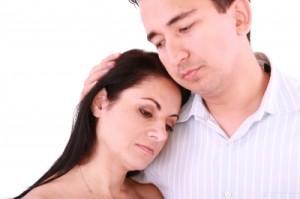 Finding out that you are expecting is the most exciting news that a mother to be will ever get, aside from getting married.  After getting a positive pregnancy test, most women call the doctors office immediately to get prenatal care so that they can determine how far along that they are.  Once you have a confirmed pregnancy at your OB/GYN, some doctors will do an ultrasound the same day while some doctors have you come back for another visit .  The ultrasound is used for dating purposes and to determine if your pregnancy is viable, and the doctor can also determine how far along you are according to the baby's measurements.
Disclosure: This post is for informational purposes only.  Please seek additional help from a health care provider, doctor, psychologist, or psychiatrist.
Some mom's get to hear exciting news about their new baby and then there are some mom's who leave the doctors office devastated or in tears.  If you leave the doctor's office devastated or in tears, chances are the ultrasound tech found something abnormal on your sonogram and has the doctor immediately come in to take a look.  You doctor should carefully explain to you everything that he or she sees is wrong with the baby.  Sometimes your doctor will even have you come back to the office for a second ultrasound in a few weeks, if they don't happen to see the baby's heart beat just to make sure that your dates aren't off for some reason.
If you leave the doctor's office with news of a miscarriage either from problems with the ultrasound or bleeding during early pregnancy, please know that you aren't alone.  Losing a baby is the hardest thing that any parent will ever have to face in their lifetime.  It is important that you take the time to fully grieve your loss.  What are some ways that you can cope with the loss of your baby:
Take Plenty of Time to Grieve – Allow yourself to fully grieve and to feel the emotions involved with your loss.  Never rush the grieving process.  If you rush the grieving process, the memories will come back and they tend to come back stronger than before.  Never listen to people who tell you that things happen for a reason and to just get over it.  Do avoid people who just don't get it or don't understand how you feel.
Take Care of Yourself – It is important that you take care of yourself and get extra rest.  Your body just went through a very traumatic event and you need to take the proper amount to heal.  Ask your doctor if there are any activities that you should avoid such as resuming sexual intercourse, working out, ect.  Also, take time off from work if you feel that you need to the time off in order to grieve properly and it will help you avoid a million questions when the subject is still very new.  Do tell people exactly how you feel, you should never sugar coat your feelings or tell people that you are fine when are you aren't.
Find a Support Group – It is important that you find a support group in your local area or on the Internet.  This can be a great place to talk about your feelings with people who have been in your shoes and understand exactly how you feel.  They can answer any questions that you may have about dealing with difficult people, sharing stories of hope, and just being there for you in your time of need.
Find a New Hobby or Pick up A Hobby You Already Enjoy – This is a great way to help you relax and do something that distracts you from everyday life.  It is also a great way to help pass the time, especially, if you are waiting for the green light to try to conceive again from your doctor.
Honor Your Baby – Many people purchase a memorabilia or create a shadow box so that they can honor their baby.  In fact, there is jewelry available for people who have had a miscarriage.  It is important to do something to honor your baby that means something to you.  Don't do it because you feel obligated to do it.  Some people donate money, volunteer their time towards helping others who have had a miscarriage, some plant trees, create a scrapbook page, and there are other numerous things that you can do to honor your baby privately.
Keep a Journal or Blog About Your Story – A journal or an online diary is a great way to keep track of your thoughts and feelings. If you end up blogging, you can help other parents who are in the same situation and eventually give them hope, if you end up conceiving and having a healthy baby later down the road.  A blog is another way to help educate others on miscarriages.  In fact, you can use a combination of both that way you can choose what you want to share with others and what you want to keep private.
If you have experienced a loss, I know that words can't always explain how you feel or take away the hurt.  It is important to fully grieve your loss and it is normal to be sad, angry, depressed, scared, question why this happened, ect.  These feelings are totally normal and are part of the healing process.  If you feel like harming yourself or others, please seek medical attention immediately by going to the nearest Emergency Room.  Depression is also normal and if it has been longer than two weeks, please consult your doctor for additional help.  If your doctor decides to prescribe medication, please be open to the help.  While medicine isn't a quick fix, sometimes after pregnancy our hormones are out of balance and the medication helps your brain chemicals get  re-balanced so that you can feel somewhat normal again.
You may never fully get over your miscarriage and it may leave parents feeling like they have a hole in their heart.
To get weekly updates to Uplifting Families, please subscribe to my newsletter or join in the conversation with me on Twitter, Facebook, Pinterest, and G+.
If you have suffered a loss, please share what helped you fully grieve your loss so that your comment can give someone else the hope that they need to hear, if you are willing.