Imagine the following situation. Your baby is on the way! The doctor says it's going to be a girl! The excitement, planning and decorating for the nursery begins. The paint colors and the furnishings are all designed for a little girl. The decorations for your baby shower are all pink and all the gifts are for a girl. Everything has been carefully crafted to welcome your new daughter. Then a day before or maybe even the same day the baby is born, you are suddenly holding your baby and….it's a boy! After the initial shock wears off, you realize that you now have to transform the girl-oriented nursery to accommodate a baby boy. You experience the dreaded thought of having to spend additional money to re-decorate the nursery.
There's enough stress in becoming a new parent. Your life has been changed forever. There are many expenses involved in having a new baby. And now, after having already gone through the process of budgeting for a nursery, you have to go through this process again on a tighter budget. You cringe at the thought of having to spend the money.
It doesn't have to be that way! You can still have that nursery of your dreams. With careful planning and with DIY creativity, you can transform the nursery yourself using materials found in both discount and online stores. You can paint furniture and walls, sew curtains, and put up wallpaper all by yourself. Painting the wall is always more budget-friendly and a quick fix than wallpapering. Another simple and inexpensive way to re-decorate the baby boy's room is by using removable vinyl nursery decals.
There's the traditional blue.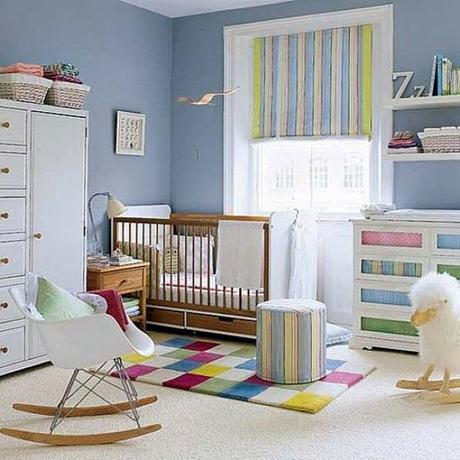 Go bold with chocolate brown!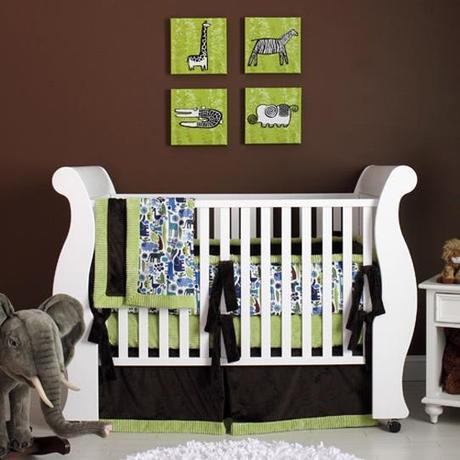 For a more neutral look, this white-dove-colored bedroom is very serene and gender neutral.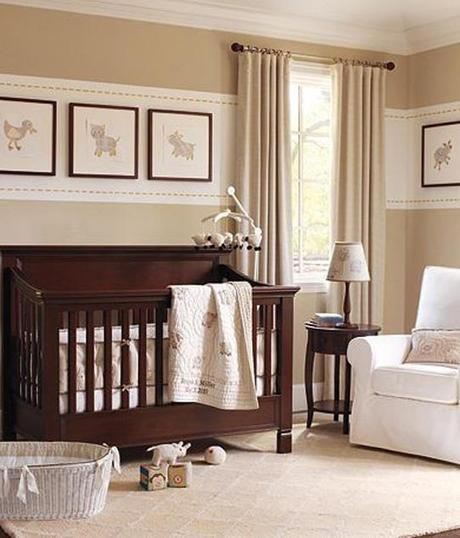 Via:
If you don't have time to repaint the pink room, consider adding a room border in blue or green. Look for the borders that are already decorated and self-adhesive. Your local discount stores, like Target, can be a great source for border selections.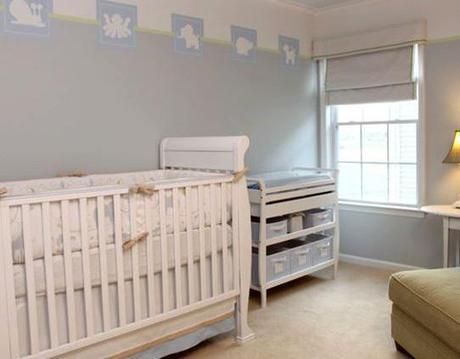 Via: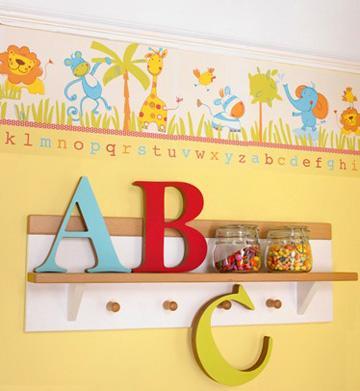 Via:
Maybe you'd like to paint his room in stripes. With some imagination and painter's tape, you can create a masterpiece.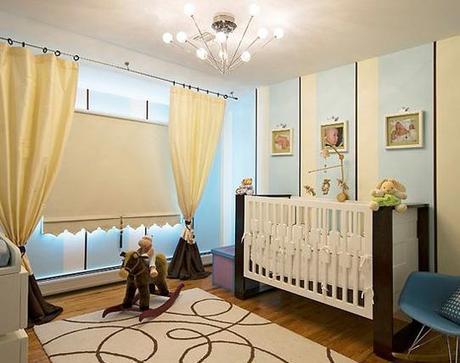 Via:
You can always go for a simpler and softer look.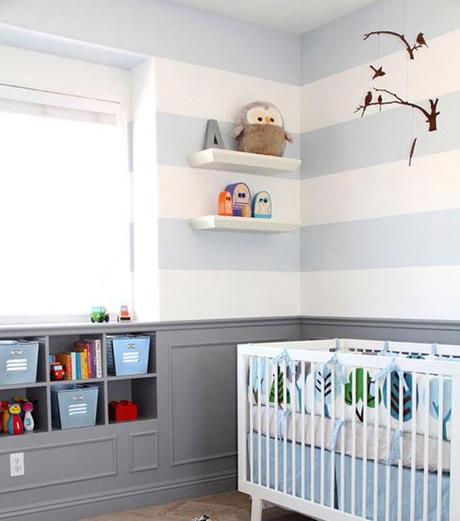 For a further DIY option, personalize the room by placing his name over the crib using painting or decoupage. Alternatively, buy packets of wooden letters from a craft store, and cover them with fabric or anything decorative that you have available.  Design the letters to match your nursery theme. Add a ribbon, and the letters are ready to hang.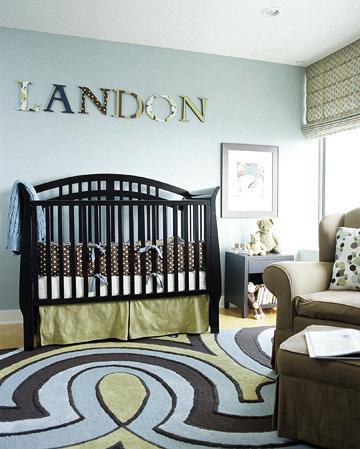 A little boy needs a room in which he can grow and have adventures. He needs a space to exercise his imagination and creativity. Just as you chose a theme for the girl's nursery, choose one for your new son that will keep him occupied and stimulated. For boys, you can't go wrong with cartoon characters, cars, boats, trains, or sports. There are so many ways that you can be frugal and stylish at the same time while redecorating the nursery from being for a little girl to being for a little boy. Visit the local thrift store and look at the stack of paintings there. Maybe you have a nursery rhyme book that has seen better days; carefully tear the pages out and frame them.
When it comes to accessorizing, you can also do this yourself. For instance, one inexpensive way to make some colorful art is to frame some leftover wallpaper or fabric scraps. For the growing boy, make decoupage using the alphabet in a variety of sizes and textures. Just frame it using inexpensive pieces bought from the art store.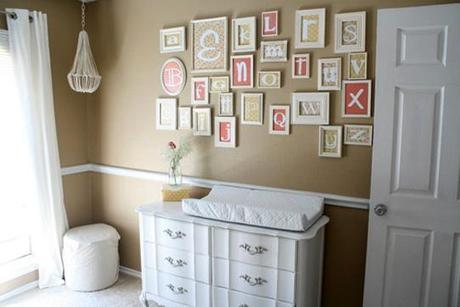 Via:
Babies are always lying on their back. Instead of just having an over-the-crib musical toy, make the nursery fun by hanging colorful cartoon characters you've cut from nursery books. Tape them to the ceiling with heavy duty tape or, if you can, use wire along with the heavy duty tape to extend the objects from the ceiling. It will definitely keep him entertained!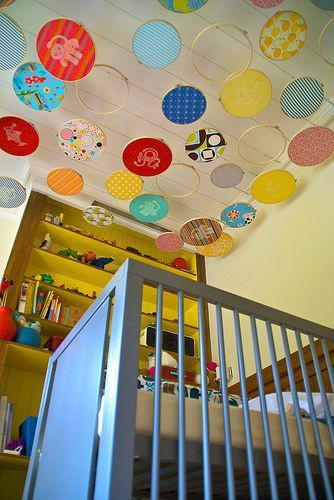 Via:
Finally, look around your home and find things you can repurpose for the nursery. For a personal touch, include family photos.
On a personal note, I became an aunt yesterday to a baby boy. I'm thrilled and excited by that, and I intend to spoil him rotten! Originally the baby was expected to be a girl. Apparently the results of the ultrasound were misinterpreted and so the parents were told that they would have a baby girl. They found out that their baby would actually be a boy only one day before he was born. I know that they will have to re-decorate the nursery and this is my way of helping them.
Simone