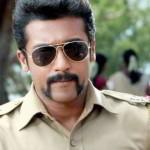 Tamil actor Suriya thanks to his wonderful performance has become a very popular actor among the Telugu audience. Most of his films are awaited by Telugu audience like a regular Telugu film and they have got good openings too. Singham is new release coming after the poor performance of Brothers. Can the film give him the success again like its prequel? Let's find out.
Strength:
Director Hari might not be that popular with Telugu audience but he is known for fast paced screenplays with some thrilling and edge of the seat moments. This is the films biggest strength.
Weakness:
Music for the film given by DSP has been a disaster and so are the trailers which given anything but a positive impression.
Poor performance of the dubbed films so far.
Last film starring Suriya too released in almost a similar fashion without any buzz and it went out to become a disaster at box office.
Too many cop films off late might make people bored if the content isn't fresh in the film.
Opportunity:
The last successful film of Suriya in Telugu was the original Singham released as Yamudu. The sequel if it clicks could be his chance to bounce back.
Threat:
With a film like Balupu already running superbly and films like Sahasam and OM planned for big releases in the coming weeks, anything less than a super hit talk could be a death knell for the film at the box office.