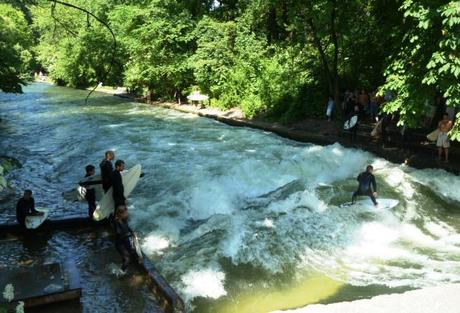 Surfing in Munich?  Why not.  Although Munich is likely not the first place that comes to mind when you think of surfing, river surfing is quite popular along the man-made Eisbach River that flows through the Englischer Garten in Munich.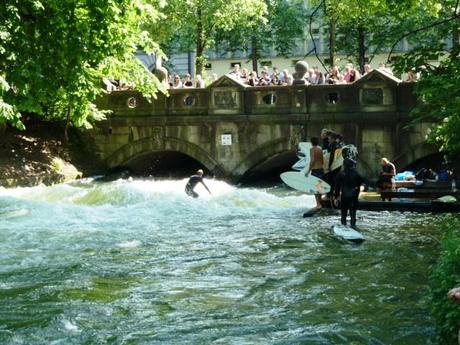 At the south end of the Englisher Garten, near the Haus der Kunst Museum there is a standing wave measuring ~ 1 meter high, meaning you can surf it for as long as your balance holds up.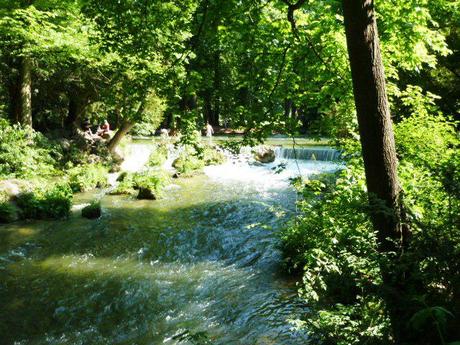 This is not how I pictured a river used for river surfing, but it is beautiful.
When I pictured river surfing in my head, I pictured a wide raging river, so I was surprised to see how narrow the Eisbach is and other than the standing wave used by surfers, the rest of the river just kinda  bubbles along.  It's a small peaceful looking river, but definitely not what I had in mind for river surfing.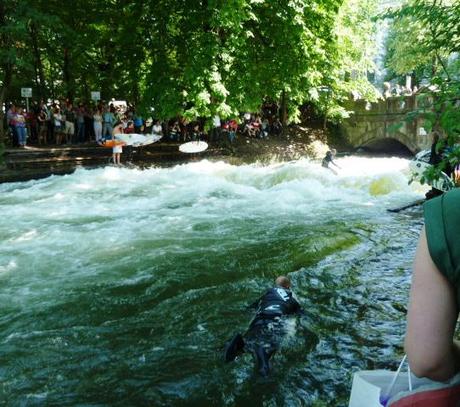 Watching the surfer paddle upstream looked like it was hard work.
Despite this, the surfing is only recommend for experienced surfers.  I have never surfed before but this was apparent even to me.  A one meter wave isn't that big, but it is fast moving and being quite shallow, it would be easy to hit your hit on the bottom if you fell.  It's also cold,  despite the 25C temperature on the day that we visited, all the surfers were still wearing wetsuits.   Besides that, I don't think I would want to try surfing with the rather large crowd of curious onlookers that surfing in Munich attracts.  This is one case in which I'm quite happy to sit on the sidelines and find a quieter, less public place to learn how to surf.
Have you done river surfing?  Would you try it in front of a crowd?