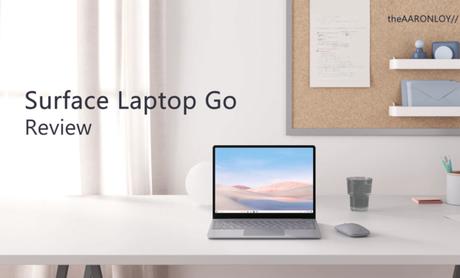 Microsoft bills its Surface Laptop Go as their lightest, most portable and affordable laptop for everyone.
I've been looking for a replacement for my venerable 8+ year old Vaio Z2. With its full powered i7 processor and twin 256gb SSD in RAID, it's still faster than most ultraportable laptops today. The problem, is battery life and weight. With the extended sheet battery, it would weight abour 1.45kg (3.2 lbs) I can only get 3-4 hrs of usage.
Surface Laptop Go Variants
The Surface Laptop Go comes in 3 flavours, all in 'Platinum' colour option:
I got the middle 8GB Ram, 128GB SSD Variant, and you should to. It sits at an affordable $1088, has a fingerprint sensor, and double the ram and storage space compared to the entry level version on the left. Also, only the 128/256GB versions are 'technically' upgradeable.
Upgradeability
Note that the Ram on all 3 variants are fixed and cannot be upgraded. The 64GB eMMC is soldered on as well.
The 128/256GB variants however, have standard M.2 Connections that fit 2230 sized SSDs. So, technically, you could just get the 128GB variant and upgrade it to a larger 512GB/1TB M.2 2230 SSD for much less than the $300 premium on the 256GB model.
Note that this will most likely void your warranty of course. Also, M.2 2230 SSDs are really small, and tend to be used mainly in OEM/Commercial applications, so finding them could be a little tricky. You may have to even have to open up other products to get one. Just make sure you don't buy full sized desktop M.2 SSDs to be used in the Surface Laptop Go.
Amazon seems to only carry small 2242 SSDs, which are too big. One 2230 256/512gb option that's available in Singapore is from Dell. There are more international options from Newegg.

Performance
Off the bat, I'll tell you, if you're looking for something in this price range and you need better specifications, choose something else.
The Intel Core-i5 1035G1 is a decent low-power quad-core cpu, good enough for smooth, speedy general use. The integrated graphics also allows for some light gaming. I've had no issues using this combo for some AutoCAD/Fusion360 work as well.
As for ram, with the small price difference, there's absolutely no reason to go for the 4GB version. 8GB is the proper minimum nowadays. If 8GB feels low, it's actually not too bad. It's more than enough for administrative work and good enough for light gaming.
Appearance & Feel
Microsoft has really transformed since Satya Nadella took over as CEO in 2014. This is reflected in the quality of the software coming out, and in the design of its Surface line of products.
So, long story short? It looks Good.
With the smooth aluminum top and palm rest, it feels smooth, sleek, like a premium product. Even the rubberized plastic bottom doesn't feel cheap.
The intake and exhaust is placed in front of the monitor swivel, which I thought was pretty smart. This way, hot air isn't directed to your mouse-using hands.
Always loved the feel of the keys from previous surface iterations, so no surprise that I love the feel of the Surface Laptop Go's too. Reminds me of the good old apple keyboards, but a little lighter and more 'clicky'. Also love the lightly rubberized texture and the key travel. The keyboard's definitely a joy to use.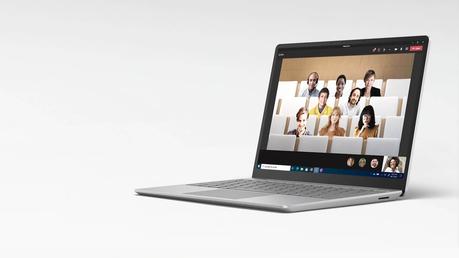 Screen
If there's one reason to get any Surface product, it's the aspect ratio of their screens.
The 3:2 ratio screen is godsend for text heavy work. Be it reading pdf documents, working with databases, or editing websites, the extra height gives you see much more viewable real estate. Once you're used to it, going back to 16:9 screens almost feels claustrophobic.
Only real downside is that you'll be watching videos and creating powerpoint presentations with black bars above and below, which is an extremely insignificant compromise for me and what I'm primarily using this laptop for.
My only concerns are the screen resolution, refresh rate and reflectiveness.
It could be application specific, but I do get bit of screen tearing when scrolling up and down in chrome, sometimes. Yet, I have no issues watching 60fps videos. Not a bit issue.
As for the screen resolution, it seems low at 1536×1024, especially considering most 12-13″ laptops, which have shorter screens, have 1080 pixels running down its height instead of 1024. However, with a pixel density of 148PPI, it is still decent. For most applications, you won't be able to see the difference, only becoming a little noticeable when dealing with things like really small text.
My biggest problem with the screen is that they decided to go with a glossy screen. Productivity focused laptops has had anti-reflective coatings for a long time now, so I don't see why Microsoft isn't using such coatings for their Surface products. I mean, they chose a productivity focused aspect ratio. Why not a glare-free screen to go along with it?
Now, I've got a matte screen protector on my screen. Which sucks.
Oh. Also, the Surface Laptop Go has a touch screen. Yay. Almost forgot about it, because it's absolutely useless and therefore an unnecessary cost to me, and probably to a lot of you out there. Should drop the touch screen and increase the screen resolution and/or specifications.
Connectivity
There are only 4 holes on the Surface Laptop Go; 1 proprietary charging port on the right, and 1 USB-A, 1 USB-C and 1 3.5mm audio jack on the left.
The most important port is the USB-C port. From here, it supports external displays, ports and charging via Power Delivery (PD).
My only gripe is the proprietary charging port. Why. It's 2021. You're not apple with a whole ecosystem of licensed products to work with. Just put another USB-C port and design your own attachments to work with USB-C yea? That way, even other laptop users who'd prefer a Microsoft branded attachment can use it too.
Battery Life
Microsoft rates the Surface Laptop Go's battery life as up to 13 hours.
Obviously, advertised battery life timings are always rubbish. To get realistic battery life numbers, I always halve the advertise rates.
I can get up to 4-5 hours usage, with active Chrome usage at about 70% brightness. Seems like chrome uses a fair bit of power, since I can push the time to 5-6 hours if I'm in a session where I'm using Word and PowerPoint more often than Chrome.
So. Decent 'real' battery life.
Windows S-Mode
The other annoyance is Windows S-Mode, which is what the Surface Laptop Go is loaded with.
Effectively speaking, it's Windows 10 Home edition with Locks.
Microsoft says it's the meant to keep your PC safe. On the surface (heh), they're trying to Simplify and keep things Safe.
To me, since you can't install software outside of the Microsoft Store, they're basically taking advantage of a basic user's fear to push their own store. Smart.
Feel free to use it if you're not a confidant PC user, but for people like me, it's an idiotic scam. Switch it off.
Once you switch off S-Mode, there's no official way to turn it back on, which is great.
You can read more about it here.
Surface Laptop Go Review Conclusion
While not without its flaws, I'm thoroughly enjoying my Surface Laptop Go. I would totally give up the pointless touchscreen for better resolution and/or better specifications and a glare-free screen. You can get a laptop with better specifications at this price from competitors too. Ultimately though, it's fast, light, has a great screen for productivity, and is powerful enough for most applications, all at a reasonable price.