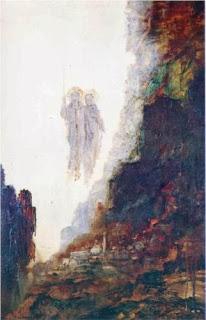 Angels of Sodom, Gustave Moreau 1890
"Then the men said to Lot, "Have you anyone else here? Sons-in-law, sons, daughters, or anyone you have in the city, bring them out of the place. For we are about to destroy this place, because the outcry against its people has become great before the Lord, and the Lord has sent us to destroy it." So Lot went out and said to his sons-in-law, who were to marry his daughters, "Up! Get out of this place, for the Lord is about to destroy the city." But he seemed to his sons-in-law to be jesting." (Genesis 19:12-14)
The scene is of Sodom, of course. The angels who had been sent by God were set to destroy the city are telling Lot to gather his family and get them out of the city. Its sins had reached an outcry ascending to heaven, and God had arrived at the limit of His longsuffering patience.
Lot was righteous (2 Peter 2:7–8, Genesis 19:7). Even though Lot had allowed his witness to become tarnished by living in the city walls with all that sin around him, and in so doing, failed to raise his family in a more Godly way, Lot knew the living God and was faithful to Him after all was said and done. Living in Sodom greatly distressed and tormented Lot as he saw and heard wicked deeds daily.
His sons-in-law no doubt would have heard Lot speak of sin and righteousness, and have begged them to do right in God's eyes. After all, he said as much in Genesis 19:7.
So here's the thing. When the angels came to the city, and Lot recognized them as angels right away, and they said they were going to destroy the city, Lot went and got his sons-in-law. Despite having seen Lot's righteousness, outwardly flimsy or inconsistent though it may have been, it must have seen bright compared to the dark backdrop in Sodom. The men thought Lot was kidding, and refused to believe him.
In Romans we see a progression of sin and the point at which God gives a society over to it. First, you will see mass sexual immorality. (Romans 1:24). If they persist, then God will give them over to depravity in the form of homosexuality and lesbianism (Romans 1:26-27). If they continue and will not repent, the last stage is that God gives them over to a reprobate mind. (Romans 1:28).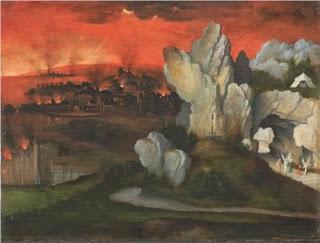 Destruction of Sodom & Gomorrah, Joachim Patinir c.1520
The term depraved mind here actually means worthless, failing the test. In other words, their mind can't think straight and they are futile.
Gill's Exposition
explains:
"God gave them over to a reprobate mind; a vain empty mind, worthless, good for nothing devoid of all true knowledge and judgment; incapable of approving what is truly good, or of disapproving that which is evil; a mind that has lost all conscience of things, and is disapproved of by God, and all good men".
This is clearly seen in the form of the lusty mob which had just been struck blind,
still
groping for the door to gang rape the angels! As a matter of fact, we see the mob scream at Lot in a way we see mobs (on comment streams and Facebook) scream today when someone tries to point to righteousness. In Genesis 19:9 we see that Lot had ascended to a position of responsibility, "sitting at the gate". It was where the elder men sat and spoke of wisdom and judicial matters. Boaz went to the men at the gate to settle his marriage to Ruth. But even though Lot was an elder at the gate, he was still not seen as one of them.
"
But they said, "Stand back!" And they said, "This fellow came to sojourn, and he has become the judge! Now we will deal worse with you than with them.""
They're saying 'You're a foreigner, you have no right to judge us! Because you dared to speak, we will go after you and not let up!'
Don't we hear that today?! 'Who are YOU to judge?" And then they turn from their original discussion to go against the one talking of Jesus and deal worse with them.
Reprobate minds are seen in the form of sons-in-law, who, however minimally exposed to righteousness of God through Lot, thought Lot was
joking
when he spoke of imminent judgment. Their mind was so far from righteousness, they didn't even think of God at all. They didn't even for a moment believe there would be consequences to sinful actions. Connecting sin and judgment was so far from their conscience, they thought it was a
joke
.
Don't we see that today? As in Sodom, our sins have piled up to heaven. As Lot did, many faithful pastors and watchmen speak of the coming judgment. As in Genesis 19, the society in which we live is full of sexual immorality, homosexuality, and people with seared consciences and reprobate minds doing what ought not to be done. If you speak of judgment to them, they think you're joking. And then they rabidly claim you can't judge and they go after you like mad dogs (or blind mobs).
In Romans 1:32 the terrible progression of sin concludes this way:
"Though they know God's decree that those who practice such things deserve to die, they not only do them but give approval to those who practice them."
Deep down they know it's wrong but their mind is so futile they instead applaud the sin and joke about judgment. Jude 1:18-19 reminds us--
"But you must remember, beloved, the predictions of the apostles of our Lord Jesus Christ. They said to you, "In the last time there will be scoffers, following their own ungodly passions." It is these who cause divisions, worldly people, devoid of the Spirit."
The section of Jude there is titled "A Call To Persevere". That is our call. Despite the heavy weight of sin all around us, we must persevere. Lot persevered, though not without many stumbles. In the end he tried to get the mob to stop...he pleaded with his sons-in-law... he listened to- and
believed
-  the angels sent by God.
After reminding us that in the last days there will be mockers and scoffers, Jude gives us some practical advice:
"But you, beloved, building yourselves up in your most holy faith and praying in the Holy Spirit, keep yourselves in the love of God, waiting for the mercy of our Lord Jesus Christ that leads to eternal life. And have mercy on those who doubt; save others by snatching them out of the fire; to others show mercy with fear, hating even the garment stained by the flesh." (Jude 1:20-23)
That's a lot of great advice! As we wait for the Lord's return, let's unpack that list and see how rich it is with what we can and should do:
--build yourselves up in your most holy faith (read your bible, go to church, fellowship with brethren, repent daily)
--pray in the Holy Spirit, (1 Thessalonians 5:17)
--keep yourselves in the love of God (Psalm 119:11, 2 Timothy 3:16)
--wait for the mercy of our Lord Jesus Christ that leads to eternal life (Isaiah 40:31)
--have mercy on those who doubt; (Matthew 5:7; Colossians 3:13)
--save others by snatching them out of the fire (Matthew 28:16-20)
--to others show mercy with fear, hating even the garment stained by the flesh (Proverbs 8:13)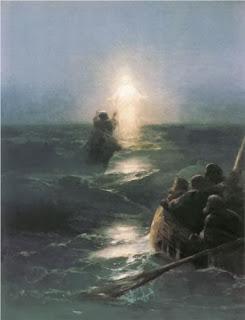 Jesus walks on Water, Ivan Aivazovsky, 1888
Our wonderful bible is so rich with instruction and comfort. Though you may be vexed by sin where you live, or even in your own family, the Word of God shows us that we are not alone. Abraham, Lot, Paul, Peter, Jude...all lived with the same circumstances. Paul sent letters to the Corinthians who lived in a culture of orgies and temple prostitution. He sent letters to the Romans, who were being burned alive as torches for Nero's garden orgies.
 If you are in a sin-storm or are living in a sin-storm, look to Jesus, who saves, comforts, sanctifies. The first century churches had the letters from the Apostles to encourage them. And we have the entire word of God, where-
"All Scripture is breathed out by God and profitable for teaching, for reproof, for correction, and for training in righteousness," (2 Timothy 3:16).
The greatest hope is that he is coming soon. Whether by death or rapture, we know this life is not the end, but a paltry and mean beginning of eternal glory with our Holy Jesus.