Suraksha(Safety) Tips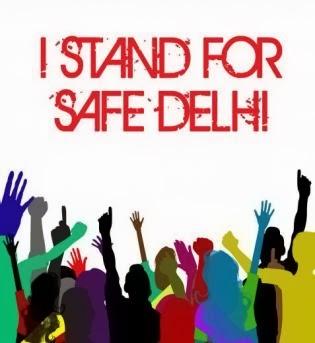 I live in Delhi the capital of India which has also became crime capital of the country for daily hosting one or the other kind of crimes. Rape,murders,snatching,theft you name a crime and we have it but that doesn't mean one should stop living here or those who wants to come here for study,work should stop coming here. Yet there is a need to be more alert. You should be aware of your surroundings and people around you. Here I am suggesting 10 tips which in my opinion are must to apply to be more safe in Delhi:
1.First of all download Smart Suraksha App in your android smart phone. This app at the press of a single button sends your message of help to five pre-chosen contacts from your contact list along with your location even if the GPS on your cellphone is switched off. This app ensures your safety at time of danger.
2.Always note the number of auto or taxi you use for commuting and tell the same to someone you trust. This will demotivate the person from doing anything wrong because the chances of him getting caught increased.
3.There is a women help line number 1091 which assist and help you in time of distress.Complaint there if someone harasses you over phone or follows you and passes lewd comments. Ignoring such incidents result in severe consequences.
4.Minor girls should not be left in the custody of neighbors and relatives.
5.Don't believe anybody. Ascertain the identity of plumbers,electricians,domestic helps,etc., and don't talk about money or jewelry in front of them or any other stranger.
6.Check the background of landlord before taking a house for rent. Similarly house owners should verify a tenants detail with nearby police station.
7.Girls should not go to any friends' house without informing parents. Small girls should have name and address of parents on their school bag and must accompany by parents while going out.
8.Don't disclose that you are going for a holiday in front of strangers. Inform your neighbors about your vacations so that they stay alert if something happens in your house. Also tell milkman and newspaper vendor so that they not keep milk and newspaper on door which make strangers know about you being not at home.
9.Don't stop at sights of accidents,crying child,old age people,etc on desolate roads,it might be a trap to loot,call police instead and describe the incident.
10.While leaving bank or ATM with cash keep an eye if anybody is observing you and tell the security guard about the same.
Apart from these steps time to time meetings on safety in each locality will make sure that criminals are not going to escape the crime scene and the punishment easily.
I am sharing my Smart Suraksha Tips at
BlogAdda.com
in association with Smart Suraksha App.
UBC Day 25