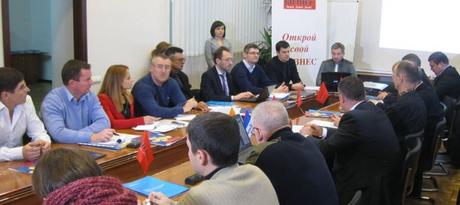 More than a year after the EuroMaidan protests took the world by surprise, Ukraine's political and economic struggles continue. Developments in the country since the new government came to power highlight the ongoing challenges of systemic overhaul following an exciting, rapid transition. These challenges clearly illustrate the link between democratic development and economic reform, so central to CIPE's work. Accomplishing the tasks facing Ukraine, from combating corruption, to reducing the barriers to doing business, to creating space for public-private dialogue, will be no easy feat.
The success of Ukraine's economic and democratic development largely depends on ensuring the success of the country's small and medium-sized enterprises (SMEs). The entrepreneurial and flexible nature of SMEs makes them integral to achieving a number of the country's goals: economic diversification; closer integration with Europe; building an adaptable economy; stimulating job growth; and boosting productivity.
Ukraine thus seeks to emulate the ways in which SMEs have helped make the U.S. economy among the world's most successful. Boosting SMEs will require both giving the business community – and SMEs in particular – a seat at the policymaking table, and providing these firms with extensive support and training. CIPE's partners are playing an important role in both of these processes.
CIPE's primary focus in Ukraine has been to reduce policy barriers to business through cross-regional advocacy. Since opening the Kyiv office in 2010, CIPE has developed an extensive network of partner business associations and chambers of commerce across the country that work to represent and support Ukraine's citizens through the work that they do.
The hard work of consolidating their voices, and pushing for legitimate change, intensified after the EuroMaidan. In April 2014, CIPE organized a National Forum where over 100 association and think tank leaders discussed shared priorities, including reducing corruption, improving the regulatory environment, measuring the contribution of SMEs to the country's economy, and advancing European integration. The participants agreed to a joint declaration of their members' top policy concerns, and created the National Business Platform, a unifying body of associations to organize dialog between SMEs and the government.
The Platform identified 40 laws in need of urgent reform to improve the business climate for Ukraine's SMEs, focused on three key areas: European standards and market access; investment; and taxation. The Platform is using an interactive web portal to improve communication among associations, remain connected, and create mechanisms to channel their members' priorities to government officials at the national, regional and local levels. By creating links among associations, and between associations and the government, CIPE is helping lay the groundwork for long-term, genuine, and grassroots private sector-led reform.
Going forward, building a business climate more conducive to SMEs in Ukraine will certainly not be simple. A range of stakeholders across sectors of the economy and at various levels of government must be engaged in developing and implementing the necessary policies, laws and regulations. Capacity must be built in multiple institutions, and given the country's history with a command economy and endemic corruption, care must be taken to balance the needs of firms and individuals against the government's funding needs.
In addition to working on the policy side, CIPE is focused on other ways in which associations can provide support to their members. In the fall of 2014, one of CIPE's partners, the Agency for Development and Investments for the South (ADIS), began a cross-regional project with four associations and banking experts from Dnipropetrovsk and Kyiv. The project focused on improving dialog between SMEs and banks about the ways in which limited access to finance affects Ukraine's SMEs, in an effort to improve their access to finance. ADIS kicked off the project with a major conference in Kyiv, with over 75 representatives of associations, major Ukrainian banks and international financial organizations. Following the conference, several banks joined with associations in creating a training program for SMEs on topics such as financial literacy and business planning.
Subsequent discussions spearheaded by ADIS on improving SMEs' access to finance engaged over 1,000 business leaders, government officials and financial sector leaders, and resulted in the development of a unified credit application form for SMEs to simplify the lending process. The form has been adopted by Raiffeisen Bank Aval, VTB Bank, Ukrsibbank and Credobank. This small CIPE-supported project will expand opportunity for SMEs in Ukraine to access finance, allowing these firms to play a greater role in Ukraine's economy, thus bringing the country one step closer to meeting its goals.
Rachel Grossman is an Assistant Program Officer for Eurasia and South Asia at CIPE.