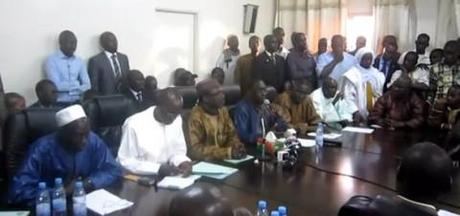 A public-private dialog session with Senegalese business leaders and President Macky Sall. Watch here (in Wolof)
Caught between the West African Sahel and tropical regions, Senegal is one of the more stable democracies among Francophone countries in Africa. Its record on democratic governance extends back to its independence from under French colonial rule. However, in the economic sphere, it has remained second-best to Cote d'Ivoire – which, with Nigeria, is one of the region's top two economic powerhouses – and hence assumed a lower international profile.
Nevertheless, with an overwhelmingly young population, food security and unemployment challenges, and its geographic and cultural proximity to neighboring countries that host various radical Islamist groups, Senegal is in need of a vibrant private sector that can contribute to inclusive economic development. Such an outcome is important to Senegal's democratic stability, as it addresses issues of food security, the religious radicalization of masses of unemployed youth, and the rise to prominence of illicit trades in arms and humans across West Africa.
A major strength of CIPE's approach is its focus on the nexus between need and opportunity in assessing countries where it hopes to lend its support . As part of its mission of strengthening democracy through private enterprise and market-oriented reform, CIPE often works in countries which are not currently in the news, but whose democratic progress may be just as critical to regional development as are that of more high-profile countries.
In Senegal, CIPE has partnered with the Union Nationale des Commercants et Industriels du Senegal (UNACOIS), the largest business association in Senegal, which has 80,000 members — nearly 70 percent of whom operate in the informal sector. UNACOIS is a strong proponent of economic and trade liberalization in Senegal, calling for the abolition of import monopolies and advocating for policies that benefit its broad-based membership rather than the crony capitalism that serves only elite interests. The objective of CIPE's partnership with UNACOIS is to empower and support the small and medium-sized enterprise (SME) sector to engage effectively in public-private dialog and to help UNACOIS better serve the needs of their members in the SME sector.
To achieve these objectives, CIPE and UNACOIS organized regional dialog sessions across Senegal for members to form into regional groups to develop action plans. These regional dialog sessions were followed by two cross-regional business agenda forums in which UNACOIS members came together to share their policy priorities. The regional dialog sessions highlighted a common issue among UNACOIS members, namely that of a complex tax code for SME operators, with different tax rates for SME operators in different provinces and districts of Senegal. In addition, these tax rates were invariably too high for most SME operators, driving many of them into the informal sector.
Watch part of the regional forum in Ziguinchor here (in Wolof).
In light of this core challenge to its members, UNACOIS, with CIPE support, utilized the regional business agenda forums to develop evidence-based research on tax reforms for the SME sector, which later became a full-blown policy recommendation to the Direction des Impots et Domaines (The Ministry of Tax and Customs). The policy recommendation included four key components:
A price analysis of core goods and services of UNACOIS' SME members,
A detailed analysis of the relative costs for the provision of these goods and services,
A projection of the relative profit margins of UNACOIS' SME members, based on the aforementioned prices and costs,
And recommendations on a more uniform and proportional tax code for the SME sector.
UNACOIS submitted its tax reforms recommendation to the Ministry of Tax and Customs, which in turn submitted it to parliament as part of its comprehensive review of the Code General des Impots du Senegal (Senegal Tax Code). On December 31st, 2012, the parliament of Senegal passed legislation to reform the Senegal Tax Code, which included all of UNACOIS' recommendations.
Due to the quality of its tax code policy reform recommendation, which made evident its national scope and grassroots reach, UNACOIS recently signed a public-private partnership agreement with the government of Senegal to collaborate on finding solutions to Senegal's persistent food security challenges. The intention is to leverage UNACOIS' broad-based nationwide membership to improve the supply chains of imported goods to the entire country. The strategy is to create efficient and well-coordinated import and distribution channels that will subsequently lower the costs of basic commodities, as well as the cost of living for all Senegalese.
A more uniform and proportional tax code for the SME sector will be a boon to efforts to formalize Senegal's informal sector. Formalization expands the government's tax base and prompts accountability and transparency. It also affords the private sector a greater opportunity to make significant contributions to the policy making process. Also, by beginning to address the issue of food security, UNACOIS and the government of Senegal are making a major stride towards resolving a potential source of social and civil unrest that could be detrimental to  Senegal's democratic progress.
CIPE's work in Senegal is contributing to preserving stability in an increasingly restive region, where countries such as Mali, Niger, Guinea Conakry, Guinea Bissau, and Cote D'Ivoire are experiencing increasing challenges to their democratic governance.