For the longest time, I consider my self a newbie blogger. All I knew about blogging is from what I see and read on other bloggers and websites I stalk. I was a noob. I was shy about signing up on campaigns, or joining blogger groups. I didn't even know if I could call myself a blogger. More than one year into blogging. I can now confidently say I am a professional blogger. I'd like to think my writing had improved. My choices got better. And I am now a proud member of the blogging community.
When #Bloggys2015 started to ask for nominees for the most awesome blogs in the Philippines, I fancied nominating myself. Well, I'm not that confident (yet). But I could not pass up the chance to show my mentors how much I appreciate their help. Yes, I call them mentors, whether they know it or not. The Philippines have a lot of amazing and inspiring bloggers that had thought me what to do, and how to enjoy what I'm doing. They had inspired and educated a lot of us. Given us food for thought or just made us laugh. They all deserve a spot at the Bloggys Award! They deserve to be validated.
If you have your own favorite blogs too, please, show them some love and nominate them to be recognized at Bloggys 2015: Philippine Blogging Awards. Vote for them and join the Gala Night on November 21 to see who won. For more information, you can visit bloggys.ph.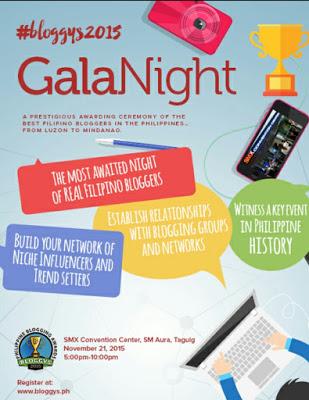 Have you nominated your favorite blog? See you at the Gala Night!