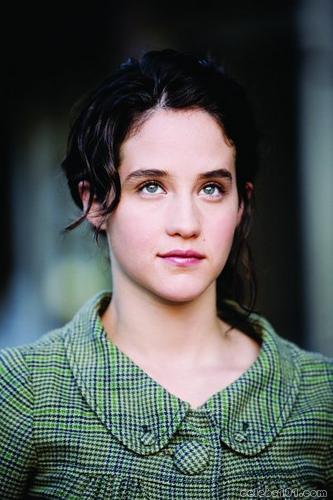 Simena Sarinana
Ximena Sariñana Rivera (born October 29, 1985) is a Grammy Award and Latin Grammy nominated Mexican singer-songwriter and actress. Sariñana's musical career was launched in 2008 with the release of her first studio album Mediocre, an adult contemporary pop-rock/vocal jazz album that has been critically acclaimed and nominated for various awards, including two nominations in the Latin Grammy Awards of 2008.
Ximena Sariñana Rivera was born in Guadalajara, Mexico to producer/director Fernando Sariñana and screenwriter Carolina Rivera. She is niece of Mexican actress Angélica Rivera and producer José Alberto Castro, brother of Verónica Castro. When she was 2 years old, Sariñana attended an Ella Fitzgerald concert, claiming to be the beginning of her interest in music and one of her biggest influences. She soon started listening to other artists such as Paul Simon, Tracy Chapman and Carmina Burana. She would often be seen singing and dancing, dressed up in costumes. When Sariñana was 7 years old, her neighbor, Cecilia Toussaint suggested she should take singing lessons with her teacher Ricardo Sánchez, known for instructing Mexico's biggest talents. She also took up piano lessons with Hanna Cot. In 1994, Sariñana acted in Hasta morir (English: 'Til Death), which was produced by her father, Fernando Sariñana. Sariñana would later attend the Academia de Musica Fermatta.
She started acting in telenovelas at the age of 11 as the villain Mariela in Luz Clarita, starring Daniela Luján as the main character, Luz Clarita. The following year, Sariñana acted in the telenovela María Isabel as Rosa Isela, with Adela Noriega as the main character, María Isabel. Her final appearance on a telenovela was in 1998 on a telenovela entitled Gotita de amor (English: Droplet of Love) as Enriqueta. At seventeen, after earning a scholarship for the Five Week Program of the Berklee College of Music, she composed three songs for the soundtrack of the Mexican movie Amar te duele where she also played the part of Mariana. Other important movies in which she acted were as Ximena in the 2001 film El Segundo Aire (English: A Second Chance), Valetina in Niñas Mal (English: Bad Girls), all of which were directed by her father and written by her mother. She also appeared in a short film called De paso in 2005. In 2007, Ximena Sariñana acted in the movie Dos abrazos (English: Two Embraces) directed by Enrique Begne. Dos abrazos won Sariñana an award for Best Female Actress at the 38th Diosas de Plata of Pecime awards. The latest movie in which she has acted is called Enemigos íntimos (English: Close Enemies) and will be released on DVD in late 2008.

She went on to be part of the band Feliz No Cumpleaños (English: Happy Un-Birthday), a Mexican funk-jazz, pop-rock band she formed alongside old friends from the Academia de Musica Fermatta. She captivated the audience on television by performing "El Triste" (English: The Sad One), originally performed by Mexican icon José José.

An article in Rolling Stone España in February 2009 featured Sariñana, and she expanded further into international stardom when she graced the cover of Venus Zine's Summer 2009 issue, transcending national boundaries to make her mark in American media.
Her first solo album Mediocre was released on February 12, 2008 by Warner Music Group. Ximena wrote most of the songs on the album and revealed in Venus Zine's Summer 2009 cover story that, "Learning the language of my nationality was something I really wanted to achieve… so I thought maybe if I did a Spanish album it would be a good challenge." On March 28, 2008, Mediocre was certified gold by AMPROFON for selling more than 50,000 copies. Sariñana would later receive further achievement when Mediocre reached platinum status for selling more than 80,000 copies.
Mediocre

Normal

Ximena Sarinana on iTunes: