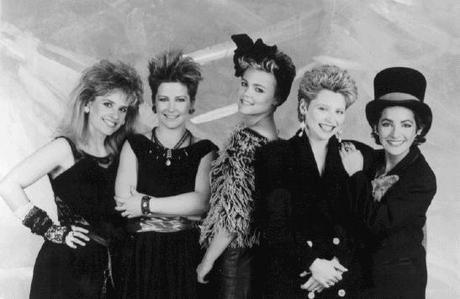 The Go-Go's
The Go-Go's were the most popular all-female band to emerge from the punk/new wave explosion of the late '70s and early '80s, becoming one of the first commercially successful female groups that wasn't controlled by male producers or managers. While their hit singles — "We Got the Beat," "Our Lips Are Sealed," "Vacation," "Head Over Heels" — were bright, energetic new wave pop, the group was an integral part of the Californian punk scene. And they did play punk rock, even if many of their rougher edges were ironed out by the time they recorded their first album, 1981's Beauty and the Beat.
Even as they became America's darlings, the Go-Go's lived the wild life of rockers. More importantly, their earliest music — now collected on Return to the Valley of the Go-Go's — was raw and rocking; it may not have directly inspired the female alternative rockers and riot grrrls of the '90s, but it certainly foreshadowed it. Originally formed in 1978 as the Misfits, the group featured Belinda Carlisle (vocals), Jane Wiedlin (guitar, vocals), Charlotte Caffey (lead guitar, keyboards), Margot Olaverra (bass), and Elissa Bello (drums). The band soon changed its name to the Go-Go's and began playing local parties and small clubs in California.
In 1979, Gina Schock became the group's drummer. During that year, the band recorded a demo and supported the British ska revival group Madness in both Los Angeles and England. The Go-Go's spent half of 1980 touring England, earning a sizable following and releasing "We Got the Beat" on Stiff Records. An import copy of "We Got the Beat" became an underground club hit in the U.S., which meant the band was popular enough to sell out concerts, yet they had a difficult time landing a record contract. At the end of 1980, bassist Olaverra became ill and had to stop performing; she was replaced by Kathy Valentine, a guitarist who had never played bass before.
Early in 1981, the Go-Go's signed with IRS Records. Released in the summer of 1981, their debut album, Beauty and the Beat, became one of the surprise hits of the year, staying at number one for six weeks and selling over two million copies; "Our Lips Are Sealed" hit number 20 and a re-recorded version of "We Got the Beat" spent three weeks at number two. The following year, the group released Vacation. Although it sold well — the album made the Top Ten and it went gold, spawning the Top Ten hit single "Vacation" — it failed to keep the momentum of the first record. During the next year the band was unable to perform as Caffey recovered from a broken wrist.
In 1984, the Go-Go's returned with Talk Show, their most musically ambitious album. While it had two Top 40 hits — the number 11 "Head Over Heels" and "Turn to You" — it failed to even go gold. By the end of the year, Wiedlin had left the band, and the Go-Go's broke up in May of 1985. Belinda Carlisle became the most successful solo artist to emerge from the group, scoring a string of mainstream pop singles in the late '80s, including the number one single "Heaven Is a Place on Earth."
via AOL Music
We Got The Beat

Our Lips Are Sealed

The Go-Go's on iTunes: