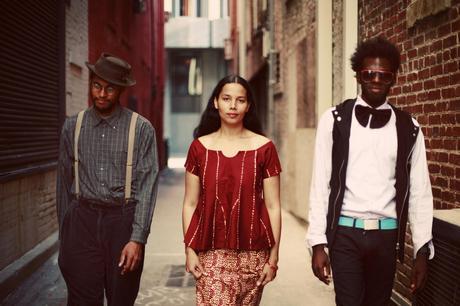 Carolina Chocolate Drops
It's time for some, bring out your fiddle, folk music!
The Carolina Chocolate Drops is an old-time string band from Durham, North Carolina, United States. Its 2010 album, Genuine Negro Jig, won the Grammy Award for Best Traditional Folk Album at the 53rd Annual Grammy Awards, and was number 9 in FRoots magazine's top 10 albums of 2010. Formed in November 2005 following the members' attendance at the Black Banjo Gathering in Boone, North Carolina, the group grew out of the success of Sankofa Strings, an ensemble that featured Flemons, Giddens and percussionist/banjoist Sule Greg Wilson, with Robinson as an occasional guest artist. The Drops are one of the two known full-time African American string bands. There were originally three members: Rhiannon Giddens, Dom Flemons, and Justin Robinson, who were all in their twenties when the group formed. All of the musicians sing and trade instruments including banjo, fiddle, guitar, harmonica, snare drum, bones, jug, and kazoo. The group learned much of their repertoire, which is based on the traditional music of the Piedmont region of North and South Carolina, from the eminent African American old-time fiddler Joe Thompson, although they also perform old-time versions of some modern songs such as Blu Cantrell's R&B hit "Hit 'em Up Style (Oops!)."
The Carolina Chocolate Drops have released at least three CDs (in 2006, 2008, and 2010) and have opened for Taj Mahal. They have performed on Mountain Stage and at the Mount Airy Fiddlers Convention. Additionally they have performed on Fresh Air and BBC Radio in early 2010 and at the 2010 Bonnaroo music festival in Manchester, Tennessee . and 2011 ROMP in Owensboro Ky.
On February 7, 2011, the band announced that beatboxer Adam Matta and multi-instrumentalist Hubby Jenkins would be joining the band, while Justin Robinson would be departing.
via wikipedia
Hit 'Em Up Style

Cornbread and Butter Beans

The Carolina Chocolate Drops on iTunes: