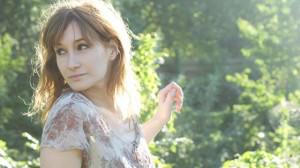 Rebekah Delgado
Rebekah Delgado is a solo musician from London, United Kingdom. After previously fronting two successful bands, Rebekah embarked on a solo career in 2010 when her previous band, The Last Army broke up. When playing live Rebekah is accompanied by a variety of other musicians, currently including Tom on violin and harmonium, Daniel on cello, JJ on percussion, and Sara on musical saw.
Rebekah's solo material is a departure from her previous bands' foundations, being influenced by Leonard Cohen, Nick Cave, Carla Bruni, Pulp, Serge Gainsbourg, Jacques Brel, Kris Kristofferson, Patti Smith, Johnny Cash, Sonic Youth and Paco Ibañez among others. As a result, Rebekah's solo music ranges from the melancholic to intelligent pop.
Rebekah is continuing to work on her first solo album, Don't Sleep which is due for release in 2012.
via last.fm
Sing You Through The Storm

Sunrise

Rebekah Delgado on iTunes: