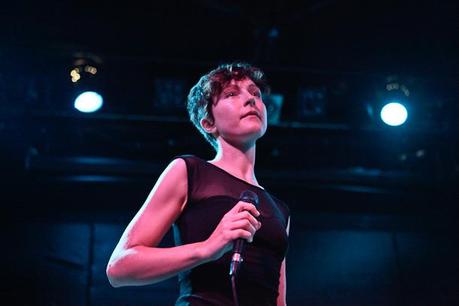 Polica
CMJ was without a doubt, the greatest week of my life. If you ever have an opportunity to go to a festival such as CMJ or SXSW which have concerts all the time over a one week period, with all sorts of new acts, DO IT. I got to see previously featured Dum Dum Girls (sounded great but were a bit lackluster live to be honest) and An Horse (totally kickass) in this week of music explosion. The best part of CMJ is finding those under the radar bands that sound amazing. Hence I present Polica.
Polica were the first warmup for Dum Dum Girls and played a fantastic little set (I snagged the setlist as to be expected). Polica has a band composition like none I've seen before. Polica is composed of lead singer Channy Casselle, her bassist and two, wonderfully talented drummers. The drummers have full sets next to each other and play in perfect concordance, an action which inspires all sorts of wonder from the crowd. Channy really got into the singing. She seemed like she had a very quiet personality, but came alive on stage. The constant drums and prominent bass make it very tribal sounding, but the singing really elevates the package making it sound complete.
Polica has some prominence as an undiscovered band. Channy is the current lead singer of Gayngs. There album was mixed by a member of Spoon and has guest vocal appearances from Bon Iver. So there's some music talent right there! Polica was touring with fellow New York natives Clap Your Hands Say Yeah and played a capacity show at Bowery Ballroom earlier this year.
Polica has their album recorded, and is set for release soon. In the meantime I recommend heading over to thisispolica.com and checking out the two singles they have up already, you won't regret it!

Lay Your Cards Out