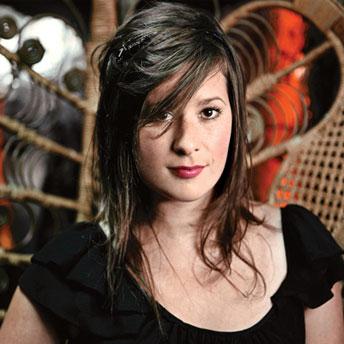 Kate Walsh
She's been called music's best kept, not-so-secret 'secret.'; 'The missing link between Joni Mitchell' (hails UK's The Guardian) and a host of female singer/songwriters cut from the UK's intricately-stitched musical fabric. None, however, have emerged on the cusp of their US debut with an album as sure and ready-to-occupy as Kate Walsh's aptly titled Tim's House. Unceremoniously recorded in friend and producer Tim Bidwell's bedroom, it packs the rarest of emotional wallops rendered by an alluring vocal presence that one perceptive online reviewer blared: 'sends goosebumps up and down your spine (often) with no more accompaniment than an acoustic guitar.'
It's entirely fitting that feisty bloggers should have the first say about the inspired Walsh. Launched from the cozy confines of her homemade myspace site, the charismatic singer invitingly billed her freshly-minted start-up record imprint as 'Blueberry Pie.' Adventurous music fans hungrily lapped up online helpings of Tim's House ('and on their own – thank God' quips Kate), discovering a genuine musical 'plum' in the making. In a few short months the then-unknown Kate became the talk of the music industry, topping established stars such as Arcade Fire and Amy Winehouse on UK online music charts. Now poised for a late January, 2008, US kickoff on Verve Records, it was indeed the rabid response of music's exploding online social communities that propelled Tim's House to the #1 slot on the UK iTunes Hot 100 Albums Chart. Incredibly, the raved-about CD even reached the #1 slot on both the iTunes U.S. Folk Chart and the iTunes Canadian Roots Chart despite only 'limited basis' import availability here in the US.
"Anyone can do it," commented the non-plussed Walsh, about transforming her website into one of the most unfettered musical introductions in recent memory. What 'anyone' can't do is serve up what The Brighton magazine coined as an 'instantaneous emotional connection not even dreamed up five years ago.' Tim's House has opened 'feather-light' musical treasures – says Q Magazine – to music fans who may otherwise never have known about the beguiling vocalist. From the yearning "Your Song," to the mesmerizing "Tonight," the album seems to 'suspend planetary motion while she sings' crows Uncut. Her disarming voice has even dazzled Hollywood, with the hit TV show Grey's Anatomy featuring "Your song" in an episode christening their spin-off series Private Practice starring – you guessed it – Kate's namesake and female lead of the show, American TV actress Kate Walsh.
Such synchronicity could only flow from a singer/songwriter who hails from a tiny, 'magical' fishing village with the bucolic name of Burnham-On-Crouch, Essex. "Though, being fisherman and all, people could be tough there," recalls Kate. The singer even included a song on the album, "Talk Of The Town," about weathering such small town growing pains.
Urged by her family to take piano lessons, she formed an early love for classical music, but also cites more than a few contemporary female hell-raisers as influences including groundbreaking solo artists such as Tori Amos.
Jaunty touring stints with Josh Ritter and Richard Hawley (Longpigs) have also ingrained notches on her musical belt. Intimate live US showcases in mid-November further whetted US tastemakers' appetites for her launch here. Usually stuffy affairs, Kate wowed audiences with her trademark one-on-one rapport that originally transported online music fans. She even kicked off her shoes mid-set at LA's Hotel Café, describing her endless on-foot-scuttle to get to the gig to due to the city's proper lack of adequate parking. Her enticing stage presence has been thoroughly noted by British music critics, with the influential Glaswerks UK music site describing her show on the Richard Hawley fall UK tour as: 'Understated and stunning…she fills the stage completely."
Applying the same kind unhurried grace in the making of Tim's House, it's hard to believe there was a time when Kate doubted her singing. She admits to doing the 'hairbrush as microphone' thing in her bedroom, but adds that she initially wanted to write film scores or compose songs for other people. At 18, she was accepted to study for a music degree at The London College Of Music and Media, but when a music industry acquaintance heard the material she'd been writing, Kate deferred her entry into college and began collaborating on her first album, an essential 'learning' curve previous to Tim's House.
Determined to display more creative control the second time around, Kate enlisted multi-instrumentalist Tim Bidwell to co-produce (he was an in-house producer for a local British label Folklaw) and used his live-in studio to full capacity. The result: a remarkable signature effort that a Venus review here in the US duly notes: 'harkens back to the golden age of girl and guitar.'
"I'm most proud that the album seems to be speaking for itself," says the singer/songwriter.
In other words… pure Kate.
via Verve Music Group
Your Song

Don't Break My Heart

Kate Walsh on iTunes: