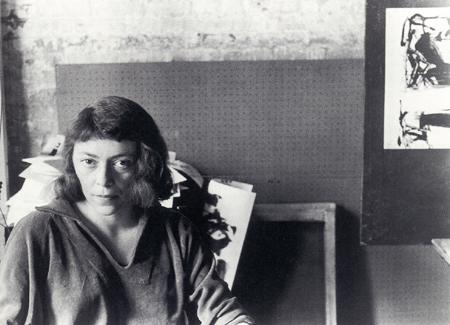 Joan Mitchell (February 12, 1925 – October 30, 1992) was a "second generation" abstract expressionist painter. She was an essential member of the American Abstract expressionist movement, even though much of her career took place in France. Along with Lee Krasner, Grace Hartigan, and Helen Frankenthaler she was one of her era's few female painters to gain critical and public acclaim. Her paintings and editioned prints can be seen in major museums and collections across America and Europe.
Mitchell was born in Chicago, Illinois, the daughter of James Herbert and Marion Strobel Mitchell. She studied at Smith College, in Massachusetts, and The Art Institute of Chicago. After moving to Manhattan in 1947, she wanted to study at Hans Hofmann's school in New York but, according to Jane Livingston in her 2002 essay (in "The Paintings of Joan Mitchell"), Mitchell only attended one class and declared, "I couldn't understand a word he said so I left, terrified." She traveled in 1948 in France, Spain, and Italy. In 1951, her work was exhibited in the landmark "Ninth Street Show" alongside that of Jackson Pollock, Willem de Kooning, and Hans Hofmann. By the early 1950s, she was regarded as a leading artist in the New York School. In her early years as a painter, she was influenced by Vincent Van Gogh, Paul Cézanne, Wassily Kandinsky, and later by the work of Franz Kline and Willem de Kooning, among others.
She married American publisher Barney Rosset in 1949 in Paris. Rosset is a Chicago-born American entrepreneur and former owner of the publishing house Grove Press, who is perhaps best known as the American publisher of the controversial and sexually charged novel Tropic of Cancer by Henry Miller. They divorced in 1952. In 1955, Mitchell moved to France to join Canadian painter Jean-Paul Riopelle, with whom she had a long, rich, and tumultuous relationship. They maintained separate homes and studios, but had dinner and drank together daily. They first lived in Paris, and then moved west to the town of Vétheuil, near Giverny, Claude Monet's home.
Her paintings are expansive, often covering two separate panels. Landscape was the primary influence on her subject matter. She painted on unprimed canvas or white ground with gestural, sometimes violent brushwork. Her paintings are highly expressive and emotional.
An admirer of Vincent van Gogh's work, Mitchell observed in one of his final paintings: Wheatfield with Crows 1890, the symbology of death, suicide, hopelessness, depression and darkness. With her sense that Wheatfield with Crows was a suicide note she painted a painting called No Birds as a response and as an homage.
During the period between 1960 and 1964, Mitchell moved away from the all-over style and bright colors of her earlier compositions, instead using sombre hues and dense central masses of color to express something inchoate and primordial. The marks on these works were said to be extraordinary: "the paint flung and squeezed on to the canvases, spilling and spluttering across their surfaces and smeared on with the artist's fingers."
She said that she wanted her paintings "to convey the feeling of the dying sunflower" and "some of them come out like young girls, very coy … they're very human."
Mitchell died in 1992 in Vétheuil, near Giverny France.
The Joan Mitchell Foundation awards grants and stipends to painters, sculptors, and artist collectives. It is located in Manhattan at 545 West 25th Street.
via Wikipedia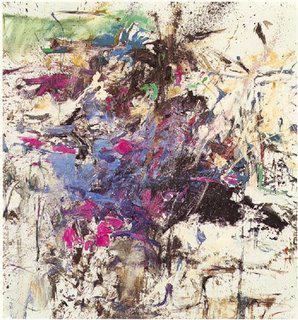 Lucky Seven