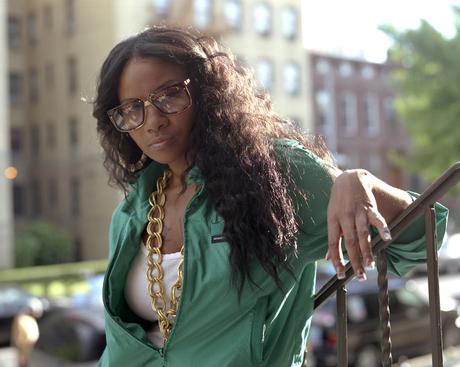 Jean Grae
Jean Grae (real name "Tsidi Ibrahim"), born November 26, 1976 is a hip hop artist from New York. She rose to prominence in the underground hip-hop scene in New York City, and has since built an international fanbase.
Born in Cape Town, South Africa on November 26, 1976, the daughter of South African jazz musicians (her father and mother are the celebrated musicians Sathima Bea Benjamin and Abdullah Ibrahim), she studied Vocal Performance at the LaGuardia School of Music & Art before majoring in Music Business at New York University.
After working with groups including Ground Zero, she joined a hip hop music group called Natural Resource in the mid-1990s, along with rapper Ocean. In 1996 they released a pair of 12-inch singles called Negro League Baseball. She also appeared on singles by fellow Makin' Records artists Pumpkinhead and Bad Seed, and on the O.B.S. (Original Blunted Soldiers) double 12-inch single alongside crew members Pumpkinhead, Bad Seed, and Meat-pie, and produced much of the material released on the label under the pseudonym Run Run Shaw. During this period she established strong ties with the Brooklyn Academy crew, with which she would appear throughout her career.
Previously signed to Babygrande Records, she signed a deal in 2005 with Talib Kweli's Blacksmith Records. On 28 April 2008, Jean Grae posted a blog on her MySpace page saying goodbye to her fans. She later cited disenchantment with the music industry and desire to start a family as the reasons behind the 'retirement' and said that she was working on new material and still wanted to continue in music: "You know what? I need that Grammy. I think I might be able to stop after that". In July 2008, Talib Kweli posted a blog explaining Grae's album, mentioning that she was not retiring. The blog ends encouraging fans to purchase the album, referring to Grae as "one of the last true MCs left." Grae returned to doing live performances later that year.
On June 23, 2011, after an almost 4 year hiatus, Jean released a free mixtape titled "Cookies or Comas" which features guest appearances from Styles P, Talib Kweli and Pharoahe Monch, it also includes the highly praised tracks "Assassins" from Monch's W.A.R. album and "Uh Oh" From Talib Kweli's Gutter Rainbow.
via Wikipedia
A-Alikes

Love Thirst

Jean Grae on iTunes: