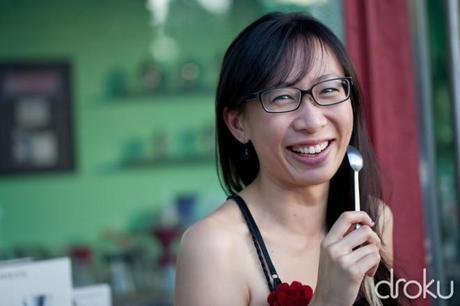 Jane Lui
Listening to singer-songwriter Jane Lui's music is like watching a Michel Gondry film. There's a whimsical, homemade feel that's inventive, magical, & intimate. Handmade music boxes, found objects, percussion pipes, and cardboard boxes, all a part of a handcrafted sound that makes her music enduring and lovable. It began this way though – "You're poor in college — don't have stuff, so you make it up."
"I'm painfully shy and learned that I feel most earnest in music. More than anything, I want honesty between my listeners and I; as it should respect intelligence." With a sensitivity towards the interplay of sound, space, & subtlety, Lui's artistry is fierce with utmost musicianship & self-respect.
"..Spent a lot of time in my room when I was little listening to the radio. That's where I started singing, made up stories, imaginary friends, and occasionally got electrocuted." Jane was a class clown who excelled in music early, chosen to conduct the class choir in fourth grade.
Jane is classically trained in piano and voice, yet her voice is somehow husky and soulful. It's not a story of growing up listening to Stevie Wonder and the Beatles. "Assimilating to western culture as a teenager meant I didn't have pop music historical context, so I absorbed music randomly and openly: Allison Krauss, Bjork, Michael Jackson, Brazilian jazz circus music, were all on the same playing field for me."
Showcased at CMJ 2010, critics liken her to Cat Power, Fiona Apple, and Rufus Wainwright. She has opened for Jason Mraz, Kate Earl, Jay Nash, Jim Bianco, Vienna Teng, & Tom Brousseau. Her latest record, Goodnight Company, has just been nominated for Best Recording in San Diego Music Awards 2011.
This record, Goodnight Company, was co-produced with Aaron Bowen (San Diego). With her loyal YouTube following and a strong DIY spirit, she raised over $11,600 directly from her fans through PledgeMusic.com to fund the album. "My fans made me feel more responsible for my work than ever!" Bursts of electronica, funk, old-timey, & folk give away her eclectic influences with uses of melotron, dixieland jazz, field recordings, gospel choirs, and music boxes.
The 2-disc album contains a short film on DVD format: Making of Goodnight Company, which explains their production processes with a look into her personal life that explains the difference from the two previous albums.
Jane has toured US East & West coasts, Canada, Sydney (AU), London (UK).
bio via JaneLui.com
Moves Like Jagger and Rainbow Connection Mash-Up

Jailcard

Jane Lui on iTunes: