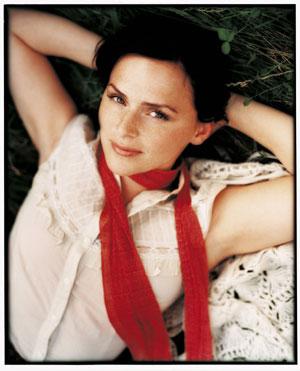 Emiliana Torrini
Emilíana Torrini (born May 16, 1977) is an Icelandic singer, best known for her 2009 single Jungle Drum, 1999 album Love in the Time of Science and for performing "Gollum's Song", during the ending credits of Peter Jackson's film The Lord of the Rings: The Two Towers.
Torrini grew up in Kópavogur, where, at the age of 7, she joined a choir as a soprano, until she went to opera school at the age of 15. In 1994, she became well-known in Iceland after winning the song competition of junior colleges in Iceland (Icelandic: Söngkeppni framhaldsskólanna), at the age of 17, singing "I Will Survive".
Her father is Italian and her mother is Icelandic. Because of name regulations in Iceland at the time, her father Salvatore Torrini had to change his name to "Davíð Eiríksson", which also implied that Emilíana Torrini had to use the surname after her father in the traditional way; "Emilíana Torrini Davíðsdóttir". A few years later, the name regulations were changed, and she was again allowed to use her original surname.
She grew up with her parents in Iceland. Her father owns and operates a well-known Italian restaurant in Iceland (Italia, located at Laugavegur 11 in Reykjavik) where she once worked as a waitress. After playing a session of gigs in London, Torrini decided to stay and live there. She has one child, a son, who was born September 6, 2010.
via Wikipedia
Jungle Drum

White Rabbit