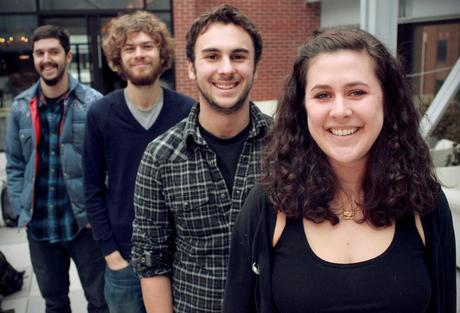 Big Tree
Big Tree is a five piece folk band hailing from Brooklyn. They classify themselves as "A group of friends that love playing music and getting brunch the next day." Little is known about Big Tree's origins in the press. Big Tree is unsigned but has released the self-titled LP Big Tree as well as the Home (Here) EP.
Big Tree is more or less the definition of a broke, indie band producing their music because they simply love it. The debut album has its tracks recorded in "porches, bedrooms, attics, and living rooms". The quality of the record does not suffer from these low-tech operations. Common instruments in songs include pianos, blues-y guitars, drums, a bass, and a fantastic voice. The genre ranges from folk to jazz infused pop that makes for a unique sound.
Big Tree was featured on the Indie playlist site Blalock's Indie Rock Playlist (BiRP) within the last year.
Acclaim for Big Tree goes a little something like this :
"…a most unpretentious group melding sunshiney hippie enthusiasm with epic post-rock breakdowns…" – The New York Observer
"Wonder is what comes out of this curious group. Wonder. Big hearted wonder….Big Tree reminds us that the world is ready for experiencing." – Indiemonday.com
Most of Big Tree's sets occur in New York.
via bigtreesings.com
The Concurrence Of All Things

Ah Ah Ah

Big Tree on iTunes: