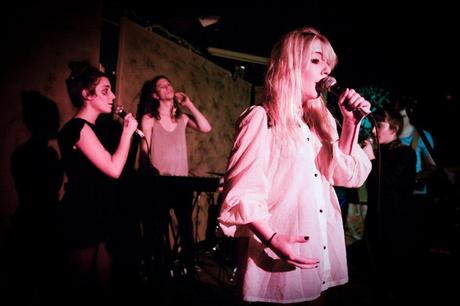 Austra
If you've ever heard an Austra song, you would know it. Few bands in my repertoire have such a unique and distinctive style. Even their covers of rock out songs like The Strokes's Alone Together are spun into truly original arrangements that capture the dark synth essence that is Austra. Austra was one of the biggest buzz bands at SXSW this year and have even started touring with the likes of the wonderfully talented James Blake. I had the pleasure of seeing Austra back in Cleveland with Cold Cave which was quite the spectacular spectacle. Austra manages to be dancey while maintaining a creepy allure that leaves the listener in a dazed state of desire for more.
The band consists of Katie Stelmanis (lead vocals) who sounds like a weird vocal mix of Marina & The Diamonds except more from the core and less from her pipes. The back up singers to accompany Austra include the Tasseomancy twins. During shows, they stare forward as if in a trance while dancing, casting a shadow of ritualism on their show. The band backing the ladies are superb and feature a bass, drums, and synth.
Debut album Feel It Break was shortlisted for the Polaris Mercury Prize. It deserves this honor as the fusion of 80s trance synth works well with the dark dance vibes that Austra put on this album. The sets are always beautiful and played with an intensity of emotions. Playing with Cold Cave, the songs were all really dark that night, but still ended up being quite the dance party.
I highly recommend Austra for fans of Ladytron, Marina & The Diamonds, and Robyn.

Lose It

Beat and the Pulse

Austra on iTunes: