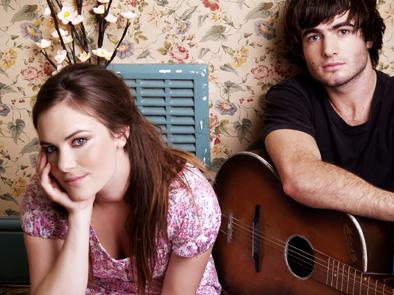 Angus & Julia Stone
Have you ever perused the music charts and seen someone have tremendous success in another country and wonder why they never made it big here? I just had one of those moments with Angus & Julia Stone, a duo that have topped the charts in Australia, but never quite found a toehold in the American scene despite their extremely mature and fresh sound (an interesting dichotomy)
Angus & Julia Stone are a brother-sister duo from Newport, New South Wales on the Northern Beaches of Sydney, Australia. Their mother and father were both musical – they learned many songs from their father's cover band "Backbeat". At very young ages, they were introduced to music by their father who made them join his school band. Julia played the trumpet, Angus the trombone and their older sister, Catherine, the saxophone.
Their debut EP Chocolates and Cigarettes was released August 2006. Their second EP Heart Full of Wine was released in February 2007. Both EP's were released distributed through EMI Music in Australia and as a 2 EP Set by independent label, Independiente Records in the UK.
Their debut album A Book Like This was released on 8 September 2007 through EMI Music Australia and has achieved platinum plus (100,000) and March 2008 in UK/Europe through Flock Music It was later released in the USA through Nettwerk on 3 March 2009 with an alternative track listing.
In between Angus released his first solo album under the moniker Lady of the Sunshine with the album entitled Smoking Gun to critical acclaim in March 2009.
The sophomore self-produced album Down the Way saw a simultaneous, worldwide release in March 2010. As travelling has been an integral part of the Stones' musical story, they opted to record in a number of diverse locations around the globe – an old sawmill on the river banks of Fowey, Cornwall, a studio in Brooklyn, a water tank in Coolangatta, Queensland and in Queens, New York.
The album debuted at number 1 in their native country and is now double platinum and was the highest-selling album by an Australian artist in 2010. The album also hit number 4 on iTunes France after the duo performed it on the TV show Taratata has since reached platinum status through their record company Discograph. The duo won ARIA Album of the Year and ARIA Single of the Year at the 2010 Australian Record Industry Awards. They also received number 1 position in the Triple J Hottest 100 for Big Jet Plane in 2011.
Julia released her debut solo album The Memory Machine to great critical acclaim.
The band have sold out gigs all around the world including 3 sold out shows at Enmore Theatre in Sydney in October 2010] a Sold out Shepherds Bush Empire in London and 5 Sold out Le Trianon's in Paris and return to Europe for the summer festivals in July 2011.
via Wikipedia
Big Jet Plane

And The Boys

Angus & Julia Stone on iTunes: