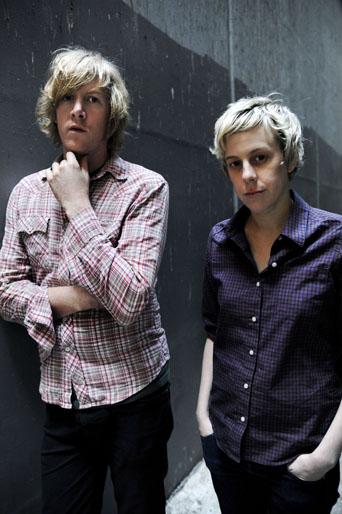 An Horse is a two-person indie rock band from Brisbane, Australia, comprising Kate Cooper of Iron On on vocals and guitar and Damon Cox of Intercooler on drums. In 2008 they toured the United States as an opening act for Tegan and Sara, prior to the release of their first album. In August 2008, they opened for Death Cab for Cutie for their Australian tour. They also opened for Silversun Pickups along with Cage The Elephant in October 2009 for an east coast leg of their Swoon tour.
To date An Horse has completed an EP, Not Really Scared, and an album, Rearrange Beds. Both were produced by ARIA award-winning Australian producer Magoo, at Applewood studios in Queensland. Rearrange Beds was available on iTunes as of 8 December 2008, and was released in stores on 17 March 2009. After their 2009 North American tour, An Horse played as a supporting act for Tegan and Sara in Canada in 2010.
Kate Cooper and Damon Cox met while working at an independent record store called Skinny's. They began making music together in 2007, and set up a PA in the store, where they would rehearse after-hours. Prior to that, Kate had played the odd solo show. "The songs were vastly different but I was using the name An Horse," recalls Kate.[6] The origin of the band name lies in a drawn out grammar dispute between Cooper and her sister over the use of "an" before hard H's. She made her a sweater with "An Horse" written on it because she insisted it was correct.
An Horse has generally received favorable reviews for their first EP, Not Really Scared, and their first LP, Rearrange Beds.Their song "Postcards" was used in a TV ad for the Mercedes-Benz CLC-Class in 2008.On 12 March 2009 An Horse made their first ever television appearance on The Late Show with David Letterman performing 'Camp Out'.
via Wikipedia
Camp Out

Postcards

An Horse on iTunes: