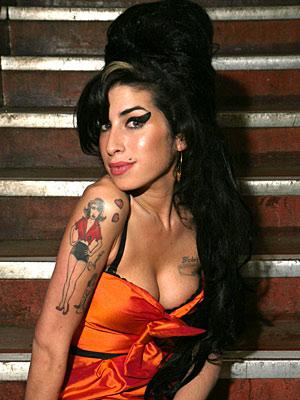 Amy Winehouse
How is it that you never really appreciate someone until they're gone?
When Michael Jackson died, I heard a lot of his music via the radio, and I thought, "We lost such a great talent. I can't believe I never listened to his music before." Now Amy Winehouse is dead, and I'm suddenly looking past all her troubles and seeing her soaring voice and strong spirit instead. So, in honor of a woman whose death was tragic and untimely, here's a biography of Amy Winehouse.
Amy Winehouse was born in Southgate, North London, to Jewish parents. She had a brother, Alex. She would constantly sing in class, much to the annoyance of her teachers. When she was nine, her grandmother suggested that she attend theater school. At ten, she joined a short-lived rap group. When she was thirteen, she was given a guitar and began writing music. In 2002, she obtained a record deal. A year later, her debut album, a jazz album titled Frank, was released to positive reviews. For that album, she was nominated in the BRIT Awards for 'British Female Solo Artist' and 'British Urban Act'.
However, Winehouse rose to international fame with her second album, Back to Black, a more collection of more melancholy, reflective tunes, including her sassy hit single, 'Rehab', which was named by Time Magazine as the 'Best Song of 2007'.
She swept the 2008 Grammies, earning Song of the Year, Record of the Year, and Best Female Pop Vocal Performance for 'Rehab', was nominated for Album of the Year and Best Pop Vocal Album for Back to Black. Two DVDs, one in 2007 and one in 2008, were released on Winehouse's life.
Winehouse said that she would release another album in January 2011, but ultimately failed to produce a record. Then, on July 23, 2011, Amy Winehouse was found dead in her London apartment.
Amy Winehouse had a huge influence on the music industry. Singers Adele and Lady Gaga both credit Winehouse for paving the way for female pop singers to have success in the mainstream pop industry. Sebastian Danchin, author of Encyclopedia of Rhythm & Blues and Soul, explained that what he calls the 'Winehouse Phenomenon' that helped revitalize soul.
So Amy Winehouse's legacy lives on. Still, she's gone too soon, and I'd like to pay tribute to a strong, talented woman and a fabulous singer. RIP Amy Winehouse, a woman with an amazing voice and a tragic story.
Rehab

Valerie

Amy Winehouse on iTunes: