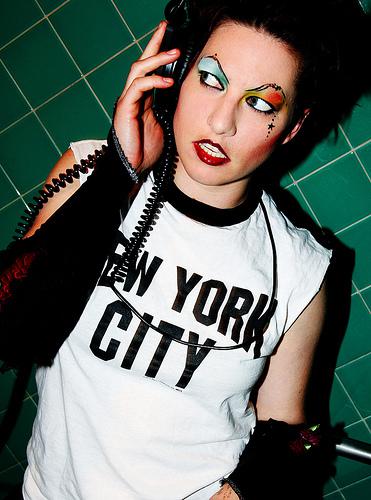 Amanda Palmer
Amanda MacKinnon Gaiman Palmer (born 30 April 1976) is an American performer who first rose to prominence as the lead singer, pianist, and lyricist/composer of the duo The Dresden Dolls. She has since started a successful solo career, and is also one half of the Evelyn Evelyn duo.
Palmer was born in New York City's Mount Sinai Hospital, and grew up in Lexington, Massachusetts. She attended Lexington High School, where she was involved in the drama department, and attended Wesleyan University where she was a member of the Eclectic Society. She staged performances based on work by the Legendary Pink Dots, an early influence. She then formed the Shadowbox Collective, devoted to street theatre and putting on theatrical shows. Palmer is married to writer Neil Gaiman.
At a Halloween party in 2000, Palmer met drummer Brian Viglione and together they formed The Dresden Dolls. In an effort to expand the performance experience and interactivity, Palmer began inviting Lexington High School students to perform drama pieces at her live shows. The Dirty Business Brigade, a troupe of seasoned and new artists, performs at many gigs. The invited costumed characters mingle with the crowd before and during the show, and veteran groups sometimes join in with a choreographed stage act. Life-sized marionettes, coin-operated boys, living statues, and other undergroundlings greet fans while circus and burlesque draw the audience into the Dolls' music, creating a participatory atmosphere that allows the audience to experience numerous types of art simultaneously.After developing a cult following, the band recorded their eponymous debut album, The Dresden Dolls in 2002 with producer Martin Bisi (of Indie, Brooklyn, New York fame). They produced the album before being picked up by Roadrunner Records.
After the release of her music video for the song "Leeds United," Palmer sparked controversy with a post in her blog. She claimed Roadrunner Records had wanted to pull certain shots from the video that exposed her stomach, because "…they thought I looked fat." After her fans read about this, they posted pictures of their stomachs online with messages to Roadrunner, lyrics, and words of comfort. They then sent their pictures to the record label, and started a web site. The fans coined a term for the movement: The ReBellyon, and put together a book, "The Belly Book," of over 600 pictures and stories from fans. The book was sold over the internet to fans all over the world.
Palmer has been awarded Artist of the Year by The Boston Music Awards, 13th in Paste's 20 Best Covers of All Time, Sixth best solo act in a Guardian's reader poll, Sixth best Women Who Rock Right Now by spinner.com, and Who Killed Amanda Palmer cracked the top 100 in US charts.
Palmer's most recent work has been the 8 in 8 project where Damian Kulash, Ben Folds, herself, and her husband got together and wrote 6 songs in 12 hours. They donated most of their profits to organizations dedicated to saving music.
via Wikipedia
Nikola Tesla

Girl Anachronism

Oasis (BONUS: previously submitted by Rihannon W)

Amanda Palmer on iTunes: