"GRAFFITI IS NOT ABOUT BEING PERFECT – ITS ABOUT THE INSTABILITY OF THIS OUTLAW LIFESTYLE AND THE CHAOS THAT IT BRINGS ALONG FOR THE RIDE. GRAFFITI IS MY LIFE'S TURBULENCE EXPLODED ON A WALL."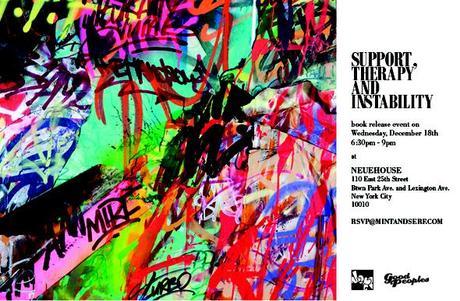 Come out Wednesday, December 18th to celebrate the launch of our new book titled
Support, Therapy and Instability. (You can purchase it here with free shipping for domestic orders only until Dec.31)
WEDNESDAY 6:30-9PM
NEUEHOUSE
110 E 25th St.
Btwn. Park Ave. and Lexington Ave.
New York, NY 10010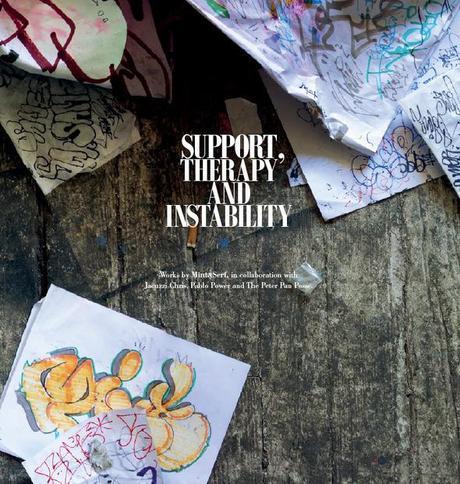 Support, Therapy, and Instability, is a limited edition (Edition of 1000), 136-page hard cover and full color monograph printed on 128 gsm glossy art paper. The book's main focus are twenty-three large canvases created by Mint&Serf with Jacuzzi Chris, Pablo Power and#PPP at The Broadway Chapter in New York City from December 2011 through September 2012. Contributing essays by Cat Marnell (Vice / Elle UK) and Carlo McCormick (Paper). Photos by Scott Furkay.Support, Therapy And Instability strips graffiti to the bare gristle of gesture and expression, while getting away far from polished graffiti murals and calculated street art. The series attempts to look at the narrative of expressions, rather than graffiti as a decorative aesthetic that often lacks meaning.
Made possible with generous support by Tim Cadiente of Barton Perreira.
Refreshments will be served.
(A limited capacity event.)
Thank You.
Mint&Serf
©2013